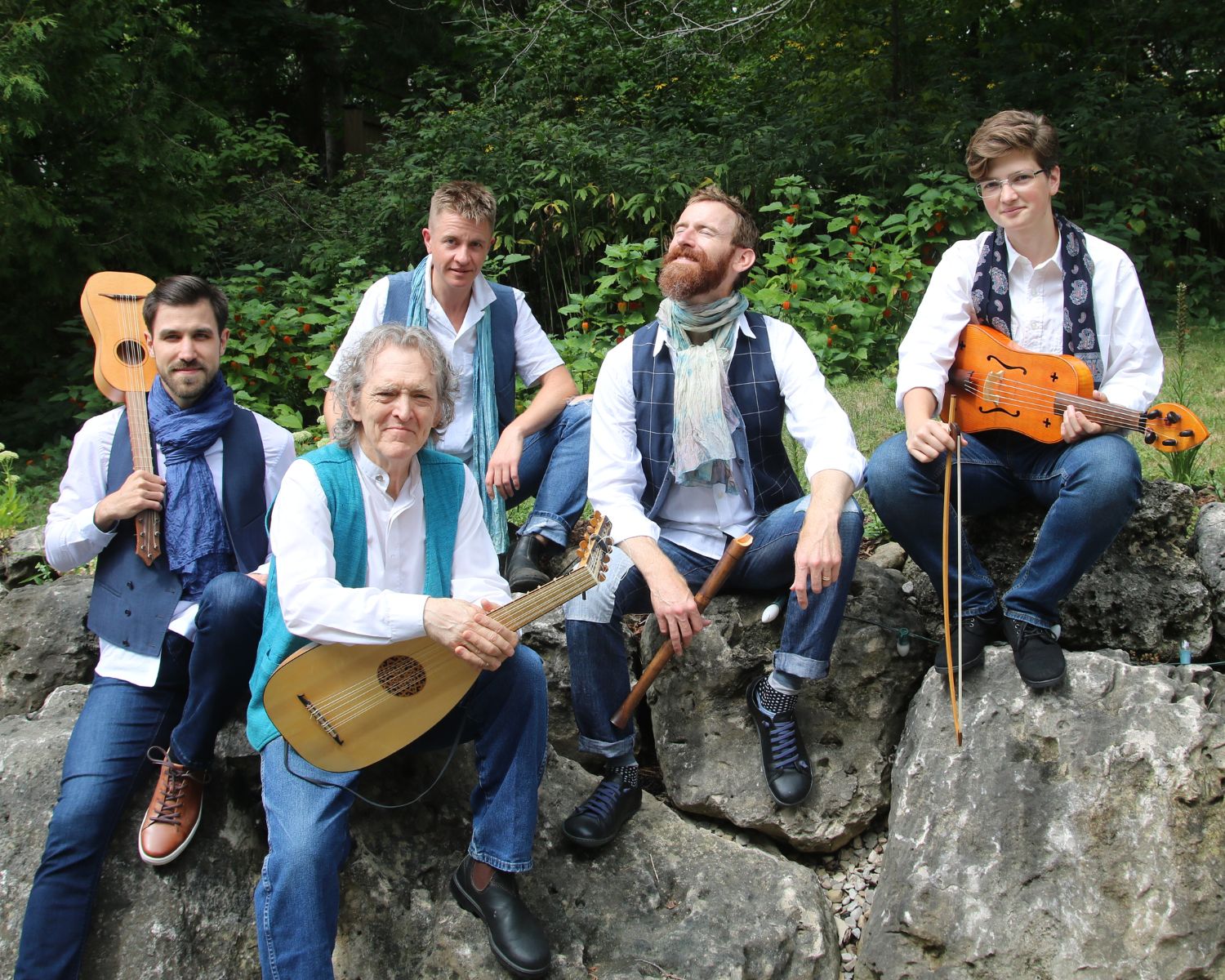 Sunday September 25 2022, 4:00 PM
Navré de ton dart
St. Barnabas Anglican Church
Sunday 25 September – 4:00 PM

$25 at the door, $20 advance reservation, $10 students. Please email for advanced reservation.
Featuring
Luke Hathaway
speaker / singer
Paul Genyk-Berezowsky
voice / Renaissance guitar / recorder
About
Join Musique Royale to hear "Navré de ton dart", a program of 15th Century music by the ensemble ANIMA, inspired by Burgundian chanson. In the program you will hear the artists singing, playing and Luke Hathaway will be reciting new poetic contra facta inspired by the chosen repertoire.
'Death, you have wounded with your arrow (navré de ton dart) the father of joy ….' So begins Johannes Ockeghem's lamentation for Burgundian composer Gilles Binchois.
This sense of death as something that arrives to us from beyond ourselves is at least as old as the art of archery, which gives it its metaphor. We reach for the same image when we talk about love: 'Ay me, the fatal arrow / That drives ev'n to the marrow, / Cupid from out his quiver / Hath pluck'd and pierc'd my liver' (thus Thomas Morley).
The arrows of love and death can arrive with catastrophic power — but they also have the power to release us from the bonds of a situation that has become untenable: Love, deliver me from out of the bonds of Death, someone might pray; or, one the other hand, Death, deliver me from out of the bonds of love.
Using songs of Gilles Binchois and John Bedyngham, with their associated parody Masses — and new adaptations of poetry by Christine de Pizan — this program tells a late-medieval transition story, which is also a story of the progress of love, both sacred and profane.
Biographies of performers
Daniel Cabena (he/him) (program curator, co-creator, vocalist, instrumentalist) is a concert singer, recitalist, chamber musician, and singing actor, performing repertoire from the medieval to the contemporary. He is also a curator of texts and music, working in artistic direction, concert programming and the commissioning of new works of text and music. To this work he brings a background in early music and liturgical music scholarship and a commitment to exploring how music functions in different performance contexts and traditions, a commitment to the 'why' of music and to its 'how.' Daniel is also a practitioner of the teacherly arts. He teaches vocal pedagogy and works with singers, one-on-one and in groups, at Wilfrid Laurier University and at the Beckett School at Laurier, the community-integrated wing of the Faculty of Music. He leads the Beckett School's Community Consort, a multi-instrumental, multidisciplinary community of practice and curiosity that explores how early music was new when it was new and how it means today. Daniel's singing and teaching are informed by the Alexander Technique, in which movement education field he is a teacher-trainee. He also makes music with his hands, playing modern and Baroque violin and viola as well as vièle and recorders.
Luke Hathaway (he/him) (contrafactor, co-creator) is a trans poet, librettist, and theatre maker who lives in Kjipuktuk/Halifax. His mythopoeic word-worlds have given rise to new choral works by Colin Labadie, James Rolfe, and Zachary Wadsworth, and to the folk opera the sign of jonas, a collaboration with Benton Roark. He is the author of four collections of poetry, one of which - Years, Months, and Days - was named a Best Book of the Year in the New York Times. His most recent collection, The Affirmations ('a wondrous account of love and change' - The Tyee) is published by Biblioasis. Hathaway works with Daniel Cabena as part of the metamorphosing ensemble ANIMA to create and commission new texts and music inspired by early music sources. Other current and/or recent collaborations include: the opera Eurydice Fragments (with Roark/Arkora and Debi Wong/re:naissance opera); the audio-visual album Ghosts (with the art collective Thirtyminutes); the theatre work This Is Not Safe (with GaRRy Williams / DaPoPo Theatre and Alexa Bella Katya); and A Passion Retold, a queer, bardic retelling of Bach's Johannes- Passion (with Cabena/ANIMA).
Paul Genyk-Berezowsky (he/him) (vocalist, instrumentalist) is a versatile performer and teacher based in Toronto. A strong believer in promoting positive change with music, Paul has organized concerts in support of causes including brain tumour research. Currently the founding music director of the Toronto Physicians Choir, Paul has in past seasons worked as Associate Conductor of the Pax Christi Chorale, Assistant Conductor of the Oakville Choral Society, and Director of the Junction Chorus, a choir for adults with intellectual disabilities. As a recipient of the Ken Fleet Choral Conducting Scholarship, Paul guest conducted London Pro Musica in concert. From the other side of the podium, Paul has enjoyed lending his baritone voice to choirs such as the Toronto Mendelssohn Choir, playing oboe with ensembles such as the Mississauga Symphony Orchestra, and performing as a classical guitarist for events and recitals. He completed his degree in Music Education at the University of Toronto and has pursued further studies with some of North America's leading conducting teachers.
Judith Souman (she/her) (instrumentalist) has been active as a professional violist in solo, chamber, and orchestral concerts across Canada and the Netherlands. Her musical interests range from playing the medieval vielle and baroque viola to collaborating with contemporary composers, and everything in between. Her performances in recent years have included creating an experimental solo recital in the Dordrecht Summer Concerts series incorporating improvisation, composition, poetry, and elements of theater with existing viola repertoire, performing as a chamber musician in the Spirit of the North Classical Music Festival and the Talent Break concert series at de Doelen, and playing with the Kitchener Waterloo Symphony Orchestra and the Prince George Symphony Orchestra. Judith is currently based in Waterloo, Ontario, where she is active as a performer and teacher. She holds a bachelor's degree with a double major in viola performance and music history from Wilfrid Laurier University, and a master's degree in classical viola from Codarts University for the Arts in Rotterdam. She studied primarily with Christine Vlajk and Karin Dolman, as well as taking lessons with violists including Nobuko Imai and Garth Knox, and quartets including the Penderecki, St. Lawrence, Dali, and Lafayette string quartets. In addition to modern viola, she has studied historically informed performance at the Tafelmusik Baroque Summer Institute, through a mentorship program with the Nota Bene players, and with baroque cellist Job ter Haar in Rotterdam.