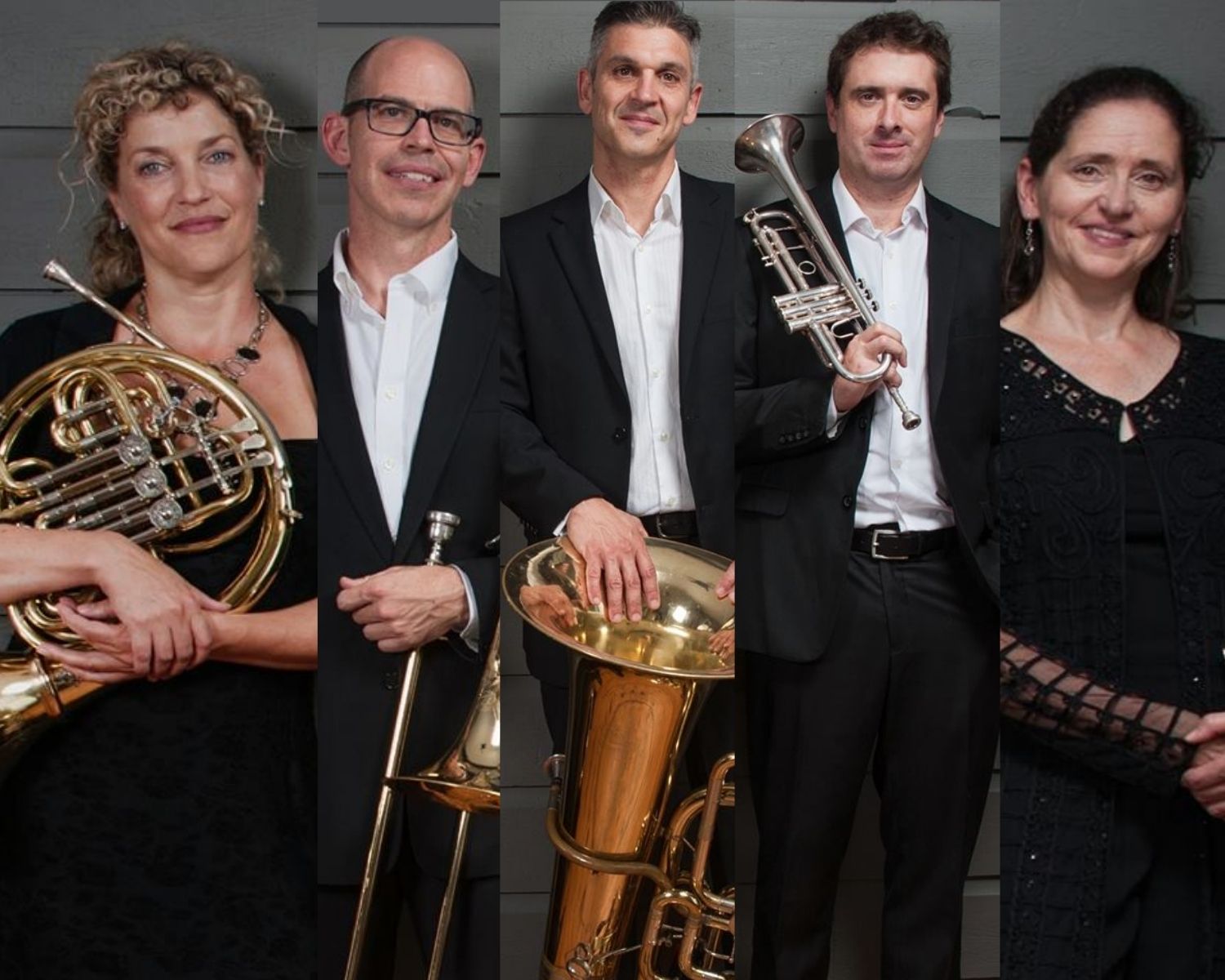 Sunday October 23 2022, 4:00 PM
True North Brass
St. James Anglican Church
Sunday 23 October – 4:00 PM

Free event, with donations accepted!
About
Musique Royale welcomes our audiences to this family-friendly concert, in partnership with Debut Atlantic, featuring the fabulous Canadian ensemble, True North Brass. For over twenty years, the True North Brass has been a prominent fixture on the landscape of brass chamber music. In 2018, True North Brass reemerged onto the Canadian and international concert stage with new membership and a new orchestral sound and repertoire, reestablishing itself as one of the world's finest brass ensembles.
Featuring original brass compositions and arrangements, spanning centuries, this concert displays the brass quintet at its most virtuosic and lyrical. Highlighting a wide array of composers, from J.S. Bach to Indian-American composer Reena Esmail, it opens with the aptly named Fire Dance by Anthony DiLorenzo. The program includes works by Canada's foremost bandmasters, brass composers, and brass players, including J. Scott Irvine, Morley Calvert, and Calixa Lavalée (composer of O' Canada). Enjoy a beautiful arrangement of Icelandic composer Anna Thorvaldsdottir's Þann heilaga kross by Taz Eddy, and rediscover familiar favourites including Tchaikovsky's Andante Cantabile, and Gershwin's Suite from Porgy & Bess. Through a single musical canvas, great program variety, expert arrangements, and superb musicianship, we hope you will be able to enjoy this concert with us!
About the Artists
Karen Donnelly, trumpet
Following three successful seasons (1996-1999) as Acting Principal Trumpet of the National Arts Centre Orchestra, Karen Donnelly was unanimously appointed Principal Trumpet in October 1999, and continues to enjoy each year with this wonderful ensemble.
A native of Regina, Saskatchewan, Karen picked up a trumpet for the first time in her elementary school band program and she was hooked. Her formal training includes a Bachelor of Arts in Music program at the University of Regina and later a Master's of Music from McGill University. Karen held the position of Principal Trumpet with Orchestra London (Canada) from 1994-1996, and performed with many ensembles in southwestern Ontario during her time there.
Since she burst on the Ottawa scene in 1996, Ms. Donnelly has done concerts and interviews for CBC (French and English), performances with the Ottawa Chamber Music Festival, Rideau Lakes Brass Quintet, and the large ensemble, Capital BrassWorks. In 2008, Capital Brass Works released its third album, "Gabriel's Sister" featuring Ms. Donnelly as soloist. Karen has been featured with professional orchestras, community amateur orchestras, and many local school bands. These include the National Arts Centre Orchestra, Thirteen Strings Chamber Orchestra, Kingston Symphony, Saskatoon Symphony Orchestra, Orchestra London, Hannaford Silver Street Band, Maple Leaf Brass Band, Parkdale Orchestra and the Regina Catholic Schools Honour Band.
Stéphane Beaulac, trumpet
Stéphane Beaulac was a member of the Los Angeles Philharmonic from 2014 to 2017. Coming back to Canada, he is taking back his position of Principal trumpet of the Orchestre Métropolitain under Maestro Yannick Nézet-Séguin, which he had since 2002. Additionally, he is a leading solo, chamber, and orchestra trumpet player in Canada and has been invited to fulfill various positions in orchestras around Canada and Asia, among them: principal trumpet with the Seoul Philharmonic, associate principal trumpet with the Toronto Symphony and second trumpet with the National Arts Center Orchestra in Ottawa.
As a soloist, Beaulac has performed various concertos from Bach's Brandenburg Concerto No. 2 to Henri Tomasi's Concerto with the Orchestre Métropolitain, I Musici, the McGill Chamber Orchestra and the Montreal chamber Orchestra. Also active on the chamber music scene, he has performed with renowned artists Matt Haimovitz , Wony Song, Suzie Leblanc, Alain Trudel, Jens Lindemann, Vincent Boucher, Louis-Philipe Marsolais, Luc Beauséjour, Julie Boulianne, and Manon Lafrance. He has participated in many recordings, notably with Yannick Nézet-Séguin and the Orchestre Métropolitain, as well as a CD recording in 2006 with organist Vincent Boucher on Atma label. Also active as a trumpet pedagogue, Mr. Beaulac teaches at the University of Montreal as well as the Conservatoire de Musique de Montréal.
Stéphane Beaulac studied with Jean-Louis Chatel and Manon Lafrance at the Montreal Conservatory, where he won the Prize with Distinction unanimously, receiving the Wilfrid Pelletier Foundation award for the highest grade in all instruments. He also studied at the University of Montreal with Jean-Luc Gagnon. Beaulac has worked privately with internationally renowned teachers such as Charles Geyer, Barbara Butler, Mark Gould, James Thompson, John Wallace, Jens Lindemann, and Matthias Hoffs.
Julie Fauteux, horn
Julie Fauteux, born in Sherbrooke, Quebec, joined the NAC Orchestra in 1999 as associate principal horn. She studied at the Montreal Conservatory with James Somerville, where she finished with a "Premier Prix". Immediately after the end of her studies, at age 21, she was appointed principal horn of the Orquesta Sinfonica de Galicia in Spain, and later on in the Real Filharmonica de Galicia, also as principal horn, where she remained until coming to Ottawa in 1999.
Julie has played with different orchestras as soloist, including l'Orchestre Symphonique de Sherbrooke, and the Real Filharmonica de Galicia, and won the First Prize in the brass category at the Orchestre Symphonique de Québec music competition. She was also a member of the National Youth Orchestra of Canada for three years.
Julie's orchestral career also included being invited in 1998 to play some concerts with the Berlin Philharmonic Orchestra under the direction of Mariss Jansons.
Aside from orchestral playing, Julie also enjoys chamber music and teaching. She teaches horn at the Conservatoire de Musique de Gatineau and in Spain taught at the Academy of the "Real Filharmonica de Galicia". She was a member of the faculty at the Banff Centre in the summer of 2006. She also takes part regularly in the Ottawa Chamber Music Festival.
David Pell, trombone
One of Canada's most versatile brass instrumentalists, David Pell has been Bass Trombonist of the National Ballet of Canada Orchestra since 2006, Principal Trombonist of the Hamilton Philharmonic Orchestra since 2002. David serves on the faculty of the University of Toronto and the Royal Conservatory of Music's Glenn Gould Professional School. He is Artistic Director of the Hannaford Street Silver Band, and has been a member of the Winnipeg Symphony, the Victoria Symphony and the Royal Winnipeg Ballet Touring Orchestra.
He has performed on trombone, bass trombone, bass trumpet and euphonium with the Toronto Symphony Orchestra, the Canadian Opera Company, the National Arts Centre Orchestra, the Calgary Philharmonic Orchestra, the Montreal Symphony Orchestra, with the Stockholm Chamber Brass and more. David appears as guest Bass Trombone on the recent Canadian Brass recording, Brahms on Brass, on the Toronto Symphony Orchestra's recording of Holst's The Planets and Stravinsky's Rite of Spring. He was featured as soloist in the Canadian Opera Company's acclaimed Ring Cycle and has played on many jingles and soundtracks for film and television.
He has shared stages and recording studios with such varied musicians as Feist, Herbie Hancock, Andre Bocceli, Supertramp's Roger Hodgeson, Broken Social Scene, Owen Pallet (Final Fantasy), Earth Wind and Fire, Michael Bolton, Sheena Easton, David Foster, Holly Cole, Kenny G and Dudley Moore and has played and toured North America with productions of Wicked, Showboat, Ragtime, Chicago, Urinetown, Phantom of the Opera, Annie Get Your Gun, My Fair Lady, Cats and Evita.
Sasha Johnson, tuba
Sasha Johnson began his musical training at age 16, studying brass chamber music and tuba with Sam Pilafian at the Empire Brass Seminar of the Boston University Tanglewood Institute. He went on to study at the University of Toronto with both Mark Tetreault and Murray Crewe of the Toronto Symphony Orchestra, with Toby Hanks at the Manhattan School of Music. His additional private teachers and influences have included Arnold Jacobs, Gene Pokorny, Alan Baer and Mel Culbertson.
In 1997, Sasha was the first Canadian tuba player to be accepted to the Orchestra Academy of the Berlin Philharmonic. This program trains a small number of young professionals in the sound, style, traditions, and standard of the Berlin Philharmonic Orchestra. Having begun his professional career in Berlin, Sasha went on to perform with many other European orchestras including the Berlin Symphony, Berlin State Opera, Radio Orchestra Berlin, Orchestre Symphonique de Radio France, Orchestre de Paris, Ensemble Modern, and Orchestre National Bordeaux. He has performed in such music festivals and concert venues as the Lucerne Festival, Festival d'Aix en Provence, Concertgebouw, Wiener Konzerthaus, Theatre Champs-Elysées, Schleswig-Holstein Musik Festival, Salzburg Festival, and BBC Proms, under such eminent conductors as Claudio Abbado, James Levine, Pierre Boulez, Kent Nagano, Essa-Pekka Salonen, Charles Dutoit, Kurt Masur, and Seiji Ozawa.
Sasha returned to Canada in 2001 and has established himself as a prominent performer and pedagogue. He has performed regularly with the Orchestre Symphonique de Montréal, the National Arts Centre Orchestra, and the Toronto Symphony. He is the instructor of tuba at the Royal Conservatory's Glenn Gould School and an instructor of low brass and chamber music at McGill University and at NYO Canada. In January 2009, Sasha was appointed principal tuba of the National Ballet of Canada Orchestra. In 2015, together with hornist James Sommerville, Sasha founded the Canadian National Brass Project, Canada's premiere symphonic brass ensemble, of which he remains administrative director.