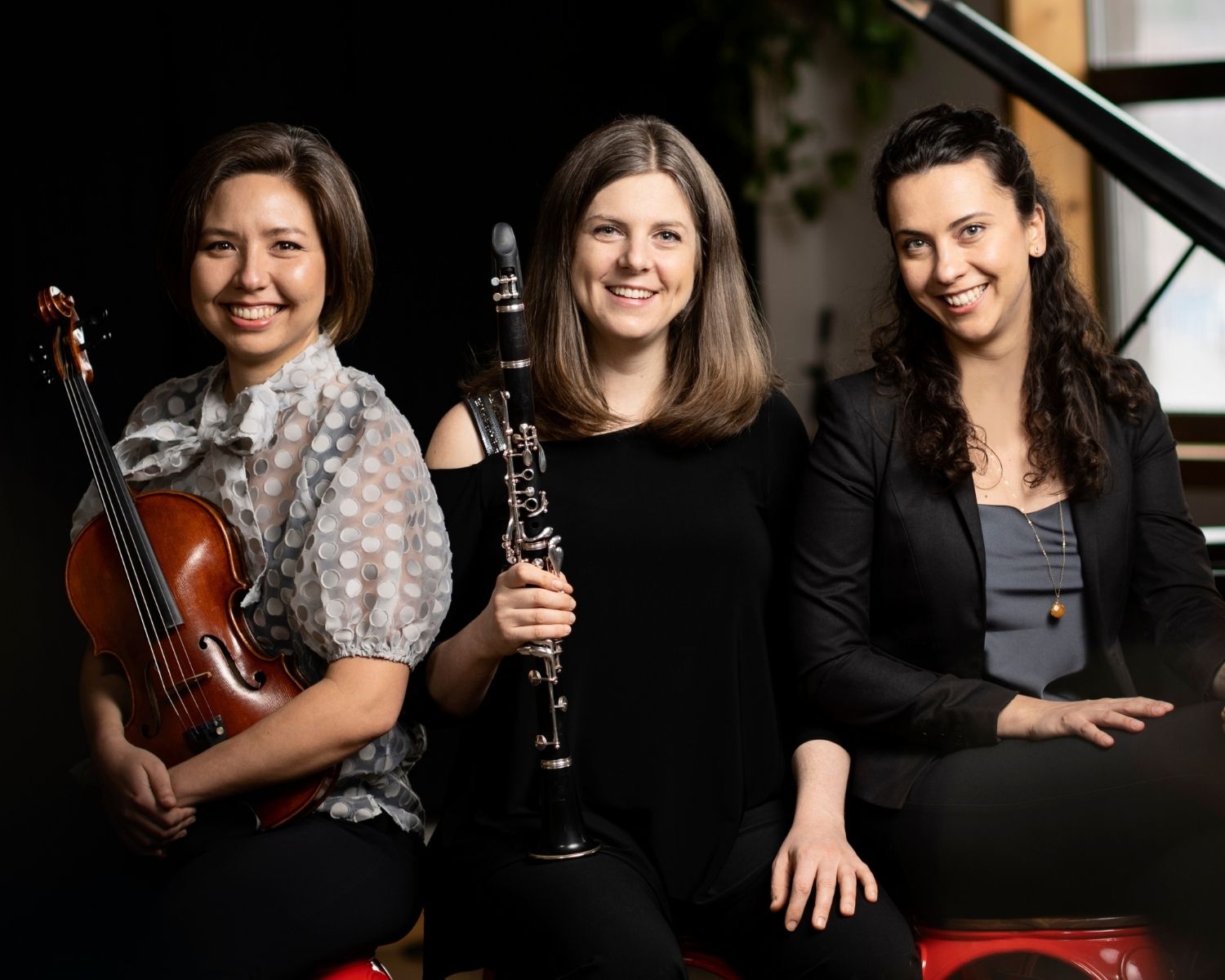 Thursday November 24 2022, 7:00 PM
Project Earth: The Blue Chapter
Cecilia's Retreat
Thursday 24 November – 7:00 PM

$35. Limited seating, admission by advance reservation, please email
About
Musique Royale welcomes audiences to hear three brilliant musicians for a much anticipated performance at Cecilia's Retreat which pairs music and poetry entitled "The Blue Chapter" part of Iris Trio's multiyear program "Project Earth".
Celebrated for their imaginative programming and powerhouse performances, the Iris Trio (clarinetist Christine Carter, violist Zoë Martin-Doike, and pianist Anna Petrova) will return to Canada for a much-anticipated tour. Together with distinguished Canadian poet, Don McKay (Governor General's Award, Griffin Poetry Prize), they present the "Blue Chapter" of their multi-year "Project Earth," including stunning new works by McKay and Juno-nominated composer/jazz pianist Florian Hoefner.
Project Earth is the Trio's response to the triple planetary crisis. Through newly commissioned poetry and genre-crossing chamber music, the project strives to illuminate the impact of human behavior on the environment, addressing issues of climate change, pollution, and biodiversity loss, while recognizing the power of our collective imagination to create meaningful change. Their Musique Royale performance in Mahone Bay will take place on Thursday November 24 at 7 pm.
About the Artists
Iris Trio
Praised for their "beauty of sound and striking expression" (Bremen Weser Kurier), the Iris Trio (clarinetist Christine Carter, violist Zoë Martin-Doike, and pianist Anna Petrova) is known for their imaginative programming and powerhouse performances. Their 2013 debut at the German Consulate in New York City was met by a sold-out audience and followed by an immediate invitation to the prestigious Mozartfest in Würzburg, Germany. The Trio subsequently gave the world premiere of Christof Weiß's Conversation Among Friends at the UNESCO World Cultural Heritage Residence Palace and were featured in Michael Wende & Andreea Varga's documentary, MozartLabor. They have since appeared at venues throughout North America and Europe, including a tour of their program, Homage and Inspiration, across Germany. Their debut album by the same name, recorded at the Sendesaal in Bremen Germany, was released in 2020 on Coviello Classics to international acclaim. The Canadian Broadcasting Company selected it as one of "10 upcoming Canadian classical albums to get excited about," Fanfare Magazine praised it as "a five-star, real stand-out release," and Classical-Modern Music Review commented, "these are extraordinarily, mutually attuned practitioners that deserve our acclaim." Collectively, the members of the Iris Trio hold positions at Memorial University, the Metropolitan Opera Orchestra (New York City), and University of Louisville, and have performed around the world on major concert stages from Lincoln Center and Carnegie Hall to the Amsterdam Concertgebouw and Sydney Opera House.
Don McKay, poet
Don McKay's books of poetry include Birding, or Desire (1983), Night Field (1991), Apparatus (1997), Another Gravity (2000), Strike/Slip (2006), Paradoxides (2012) and Lurch (2021). Camber, a selected poetry, appeared in 2004. Five of his books have been nominated for the Governor General's Award, and two of them – Night Field and Another Gravity – received that award. He has been nominated for the Griffin Award three times and received it for Strike/Slip in 2007. Between 1975 and 2018 he served as co-editor and co-publisher with Brick Books. After teaching English and Creative Writing at the Universities of Western Ontario and New Brunswick for twenty-seven years, he now writes and edits full time. From 1991 to 1997 he edited The Fiddlehead, and he has served as a workshop leader for institutions and writers' groups. He was the Associate Director for poetry at the Banff Centre for the Arts for 14 years. His abiding interest in natural history and the environment has led to four books on the poetics of wilderness: Vis à Vis (2001), Deactivated West 100 (2005), The Shell of the Tortoise (2011), and All New Animal Acts (2020). His collected poems, Angular Unconformity, appeared in 2014. Don McKay currently makes his home in St. John's, Newfoundland. In 2009, he was named to the Order of Canada.
Florian Hoefner, composer
Born and raised in Germany, trained in New York City and now based in Canada, Juno-nominated jazz pianist and composer Florian Hoefner draws from a myriad of influences that culminate in his unique brand of modern jazz. Praised as a "composer-bandleader of insightful resolve" by the New York Times and a "harmonically daring pianist … reaching toward new sonic territory" by Downbeat, Florian Hoefner continues to make waves as an inventive creator and performer of exciting contemporary jazz. He has released 5 albums under his own name and many more as a sideman. His latest release "First Spring" with his Canadian trio with Andrew Downing on bass and Nick Fraser on drums has received 2 East Coast Music Awards in 2020 and was nominated for a 2021 JUNO in the category "Jazz Album of the Year: Group." The trio is set to release its sophomore album, "Desert Bloom" on June 3rd 2022 on Alma Records. As a touring artist he has played at venues and festivals on 5 different continents and has worked with artists including Kurt Rosenwinkel and Seamus Blake. He is the winner of 2 ASCAP Young Jazz Composer Awards and the Stingray Rising Star Award at the Montreal Jazz Festival. Florian currently serves as Assistant Professor for Jazz Studies at Memorial University in St. John's, NL.
Christine Carter, clarinet (member of Iris Trio)
Canadian clarinetist Christine Carter has performed at venues across the globe, from Carnegie Hall to the Sydney Opera House. Highlights have included performances at the Mozarthaus in Vienna, German Consulate in New York City, and Palffy Palace in Prague. She has completed artist residencies at the Mozart Festival Würzburg (Germany), Málaga Clásica Festival (Spain), Shenzhen International Woodwind Festival (China), and six seasons with the Dark by Five inter-arts ensemble at Gros Morne Summer Music in Newfoundland. Christine frequently collaborates with Duo Concertante, including two CD releases on Marquis Classics, and is the clarinetist of the critically acclaimed Iris Trio. She has been praised for her "special passion and inspiration" (Augsburger Allgemeine), "seductive tone and effortless fluidity" (The Clarinet), and "golden legato" (Fanfare Magazine). Christine has also performed extensively as an orchestral musician, including engagements with the New World Symphony (Miami), Montreal Symphony Orchestra, Newfoundland Symphony Orchestra, YouTube Symphony Orchestra, and Metropolitan Opera Orchestra (New York), as well as under the batons of some of the world's finest conductors, such as Lorin Maazel, Michael Tilson Thomas, Kent Nagano, and Fabio Luisi. She holds a Doctor of Musical Arts from Manhattan School of Music and is Associate Professor of Music at Memorial University in St. John's. Christine is a Buffet Crampon Artist.
Zoë Martin-Doike, viola (member of Iris Trio)
Violinist/violist Zoë Martin-Doike is an exciting and versatile artist who engages in a wide variety of musical activities. A passionate chamber musician, Zoë was a founding violinist of the Aizuri Quartet which garnered top prizes at the Wigmore Hall International String Quartet Competition and held residencies at the Curtis Institute of Music and the Barnes Foundation in Philadelphia while she was a member. She has also received top prizes at the Primrose International Viola Competition and the Lennox International Young Artist Competition on viola and violin, respectively, and most recently won the 2019 Kaleidoscope Chamber Orchestra Competition, earning a solo appearance with the group in the following season. Zoë has attended the Steans Institute at Ravinia as well as the Sarasota, Norfolk, Taos and Marlboro Music Festivals. She did her undergraduate studies with renowned violinist, Pamela Frank at the Curtis Institute of Music, where she served as concertmaster for the 2011-12 season, and her Master's degree at the Jacobs School of Music at Indiana University, where she double-majored in violin and viola under the tutelage of Mimi Zweig and Atar Arad respectively. She was the violist of the quartet selected for the coveted Kuttner Quartet Fellowship and had the opportunity to perform both the Walton Viola Concerto and the Brahms Violin Concerto with university orchestras during her time at IU. Zoë is currently Acting Assistant Principal Viola of the Metropolitan Opera Orchestra in New York City, and has also frequently joined the Philadelphia Orchestra for tours of Europe and Asia.
Anna Petrova, piano (member of Iris Trio)
Bulgarian pianist, Anna Petrova, praised for her "artistic, clear and enlightened" performances (BBC Magazine), performs extensively as a soloist and chamber musician and is Assistant Professor of Piano at University of Louisville, Kentucky. She is a top prize winner of numerous international competitions, including the First Prize winner of the Jose Roca International Competition, Spain and a semi-finalist of the Queen Elizabeth Piano Competition. Recent highlights include her New York debut with conductor Philippe Entremont, a recording of Stravinsky's Les Noces with the Virginia Symphony Orchestra and conductor JoAnn Falletta (NAXOS, 2016), and solo and chamber music residencies in festivals across North America, Europe and China. Currently, she is working on a two-CD set of the complete piano sonatas of Russian composer, pianist and pedagogue, Samuil Feinberg for NAXOS. Petrova holds a Doctor of Musical Arts degree from Manhattan School of Music and is the Artistic Director of Aberto Jonás International School of Music in Valencia, Spain.