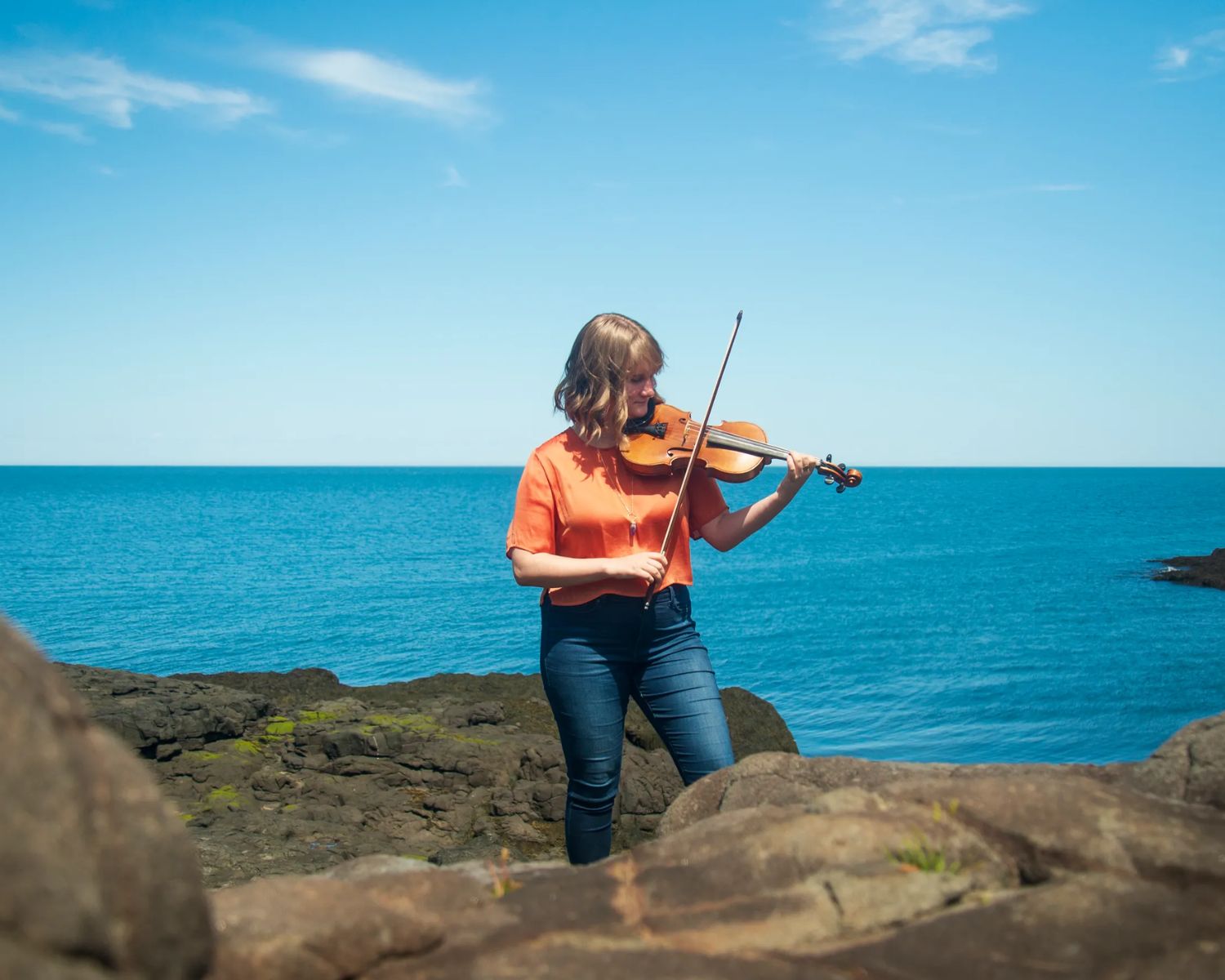 Saturday March 4 2023, 2:00 PM
Hayley Ryerson
Lunenburg School of the Arts
Saturday 4 March – 2:00 PM

$5 at the door (4 years and under free).
About
Musique Royale welcomes fiddler and composer Hayley Ryerson as our featured artist for our upcoming Cookie Concert on March 4 at 2 pm. We will hear a collection of her suites, from odes & laments to lullabies & dirges, hymns & hers to inklings & notions, the collection is meant to be a soothing experience to take in. Join us at the Lunenburg School of the Arts, all ages are welcome!
About Hayley Ryerson
Hayley's fiddling is precise, evocative, and whimsical. Her original fiddle tunes sit naturally among traditional repertoire and contemporary works on her most recent album, Both Sides of The Water (2021). Residing in Southwest Nova, Hayley's fiddling style is right at home with the intricate landscape of the tidal village where she resides. Listening to Both Sides of The Water is like peering through seaglass, receiving Hayley's traditional fiddling while simultaneously glimpsing her sensibilities as an interpreter and composer.
Hayley loved big band music as a teenager and played the saxophone. She began improvising on her violin & playing jazz music, studying at le Conservatoire in Nice, France and then at Humber College. She holds a Bachelor in Violin Performance (Humber College, 2017). She has performed in and wide range of musical settings and genres, including inter-arts collaborations.
Currently, Hayley is developing her collection of original music called H20, aesthetically informed by her background in jazz and rooted in her first musical language of traditional fiddling. Hayley teaches fiddle lessons at her studio Four Pillars Fiddle, and was nominated as 'Educator of the Year' by Nova Scotia Music Awards 2021/22. In addition to her private teaching practice, Hayley has instructed for groups such as Kole Crook Fiddle Association, Toronto Fiddle Collective, and Canadian Grand Master's fiddle camp.
Her performance history includes fiddling in Juno-nominated production DRUM, immersive dance-theatre company Frog in Hand, and with ECMA Rising Star/CFMA Oliver Schroer Pushing the Boundaries recipient, Shreem X CelticRemixing. Hayley has recorded & toured with Kitchen Orkestra, Claire Coupland, and Purcell Project. Her fiddling performances have opened for Old Man Luedecke, The Outside Track, and Hauler.
Hayley is active in promoting wellness in the music community, starting with herself. She has trained in the Alexander Technique, a kinaesthetic & experiential learning process that works with a whole person to coordinate in their activity. Hayley brings what she has learned in the technique to her fiddle students to promote ease in their playing. Hayley is a peer supporter with the East Coast Music Association. With other peer supporters, Hayley assists fellow professional musicians meet and explore challenges in wellness, career, and relationship to craft.