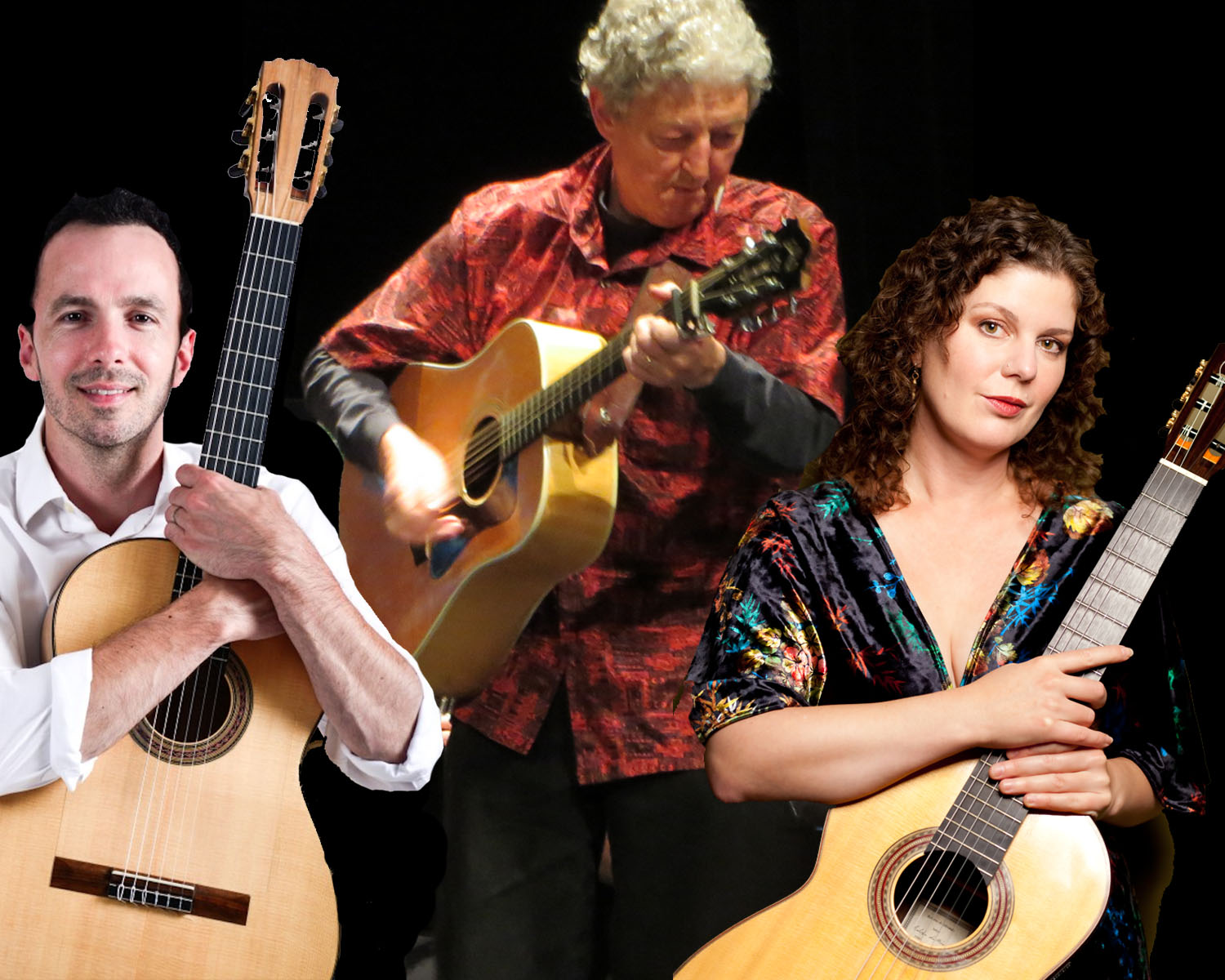 March 3 - 8, 2023
Three for All – guitar trio
About
The three fabulous guitarists Daniel MacNeil, Scott Macmillan and Emma Rush perform a mix of classical, flamenco, jazz and celtic music on a Musique Royale concert tour from March 3-8. The concerts take place in historic venues across Nova Scotia, in Windsor, Mahone Bay, Arichat, Baddeck, Merigomish, and Bridgetown.
About the Artists
Daniel MacNeil – guitar
Daniel MacNeil is a multiple award-winning guitarist, composer, and educator who has performed across Canada and Spain as a soloist, in chamber music settings and with professional symphony orchestras. He has been featured as both a guitarist and a composer for full-length concerts with the Calgary Philharmonic, the Edmonton Symphony Orchestra, the Victoria Symphony, and he has also performed with Symphony Nova Scotia.
In addition to his background in Western classical music and improvisation, Daniel has specialized training in numerous international genres, including: Flamenco, Middle Eastern (Arabic and Turkish), Indian Classical, and Latin (to name a few), and he is equally adept in New Music, Jazz, and frequently collaborates with professional dancers.
Daniel is also recognized as an educator. As an instructor, he has been awarded the Teachers Gold Medal Award from the Royal Conservatory of Canada five consecutive years for teaching classical guitar competition winners. He is a faculty member at The Fountain School of Performing Arts, Dalhousie University and the Maritime Conservatory, he is the director of World Music ensembles, Guitar Ensembles, and has taught at Acadia University and the NSCC Ivany campus. His recordings and compositions are featured by the CBC and numerous festivals across Canada.
Emma Rush – guitar
Emma Rush has established herself as one of Canada's top classical guitarists. Her career has commanded world recognition. Recent touring highlights include a four-city tour in China, starting with the Altamira Shanghai International Guitar Festival, appearances at guitar festivals including Festival de Guitarras Lagos de Moreno (Mexico), the Nyköping Gitaarseminarium (Sweden), and a prestigious concert at the Internationales Gitarren Symposion, Iserlohn (Germany). In 2023 Rush performs throughout Canada with stops in Nova Scotia, Québec, Ontario, Alberta, and British Columbia, with international appearances including the Minnesota Guitar Society and the Swedish Guitar and Lute Festival.
In 2020 Rush released Wake the Sigh, a collection of rare music written for guitar by women in the 19th century. Her earlier recordings are Canadiana, which includes a suite dedicated to her by composer William Beauvais, and Folklórica.
"Rush's technique is flawless throughout…" The Whole Note
Emma Rush has received three City of Hamilton Arts Awards, and has had her work supported by the Canada Council for the Arts, Ontario Arts Council, Hamilton City Enrichment Fund, and FACTOR.
Rush is a guest lecturer at colleges and universities throughout North America and was an Artist-in-Residence at the Fountain School of Performing Arts at Dalhousie University in the fall of 2016. She is active in presenting guitar events around the world and is Co-Director of GuitarFest West in Calgary and the Collegiate Peaks Guitar Retreat in Colorado.
Scott Macmillan – guitar
Scott Macmillan's passion for creating music propels him forward in all aspects of music making, inspiring exploration into genres from rock to blues, classical to choral, Celtic to jazz, as well as modern and avant-garde.
In 2021 Scott composed the Dramatic Score for the film 'Dawn, Her Dad and the Tractor'. In 2019 Scott premiered '12 & Change' for Electric Guitar with SNS and 'Woodland Revival', an experiential composition performed by Mi'kmaw drummers, Persian, Celtic & Classical musicians.
Music has taken Macmillan to many places including Carnegie Hall performing his much loved ode to our world's oceans 'Celtic Mass for the Sea', with partner/librettist Jennyfer Brickenden.
Multiple awards, appointments, commissions and critical reviews all reflect Macmillan's contribution to the music of Nova Scotia and beyond. An integral contributor to the success of the late Rita MacNeil, Scott played an equally pivotal role in the rise of the Rankin Family Band, the Nova Scotia Mass Choir and led Symphony Nova Scotia's Maritime Pops programming for 10 years in the 1990's.
In 2008 Scott began mentoring a new generation of guitarists at the Fountain School of Performing Arts, Dalhousie University.