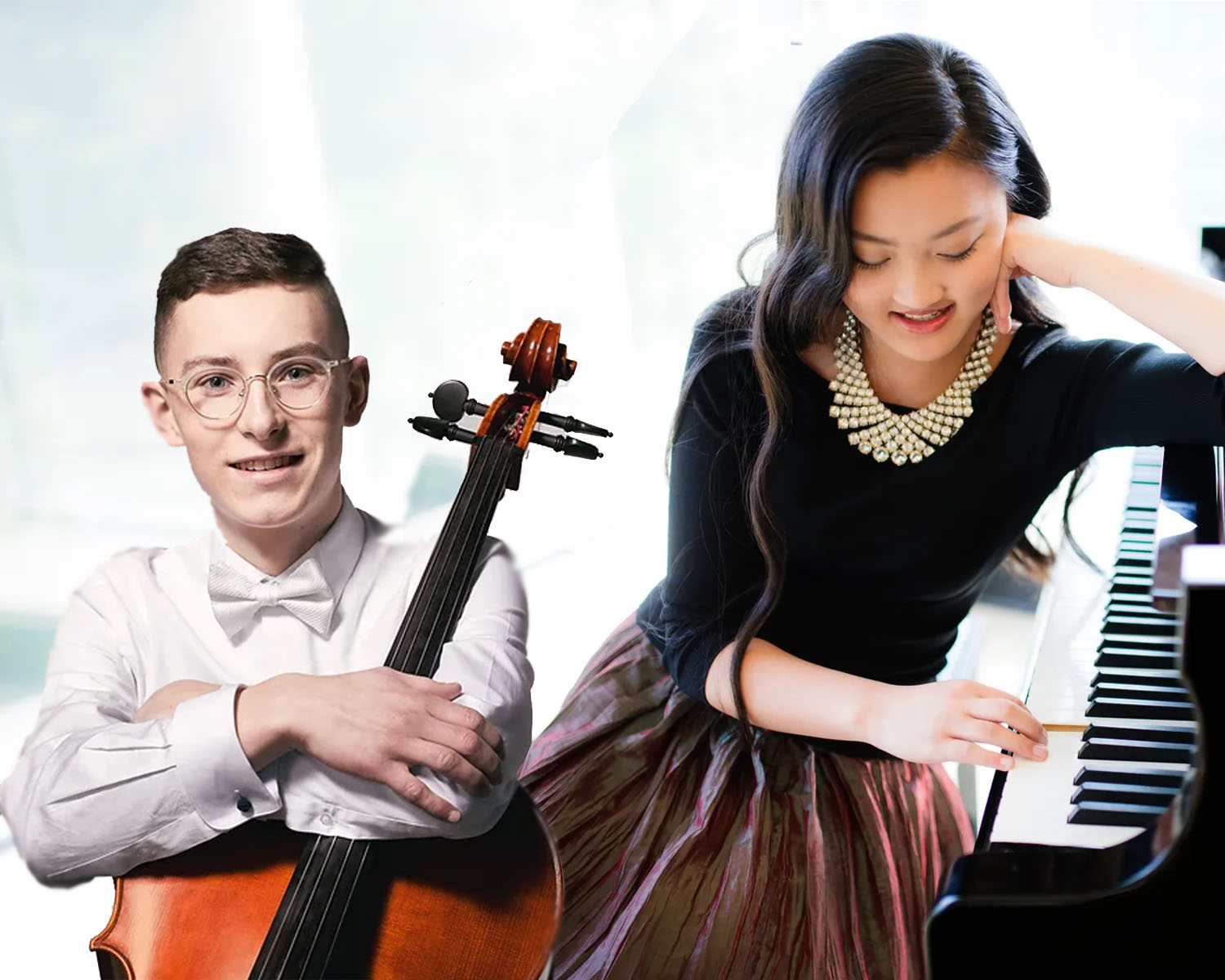 Saturday March 11 2023, 11:00 AM
Liam and LaLa
Cecilia's Retreat
Saturday 11 March – 11:00 AM

$35. Admission by advance reservation, please email.
About
Liam&LaLa is a new cello/piano duo composed of two of Canada's brightest young talents, cellist David Liam Roberts and pianist LaLa Lee. Musique Royale is delighted to feature them in the intimate setting of Cecilia's Retreat in Mahone Bay on Saturday March 11 at 11 am.
In November 2020, they made their recital debut for Cecilia Concerts at the Lilian Piercey Concert Hall in Halifax, to great acclaim. Individually, both musicians are rapidly establishing themselves with much promise. David Liam is the winner of the 1st Prize and Grand Award at the 2018 National Music Festival of Canada as well as the esteemed 2020 Michael Measures 2nd Prize, while LaLa performs extensively throughout China and Canada and has played concerti with orchestras including the Shanghai Philharmonic, Xiamen Philharmonic Orchestra, and Symphony Nova Scotia. Both artists have been featured on CBC's list of Canada's 30 Top Classical Musicians Under 30 and are recipients of The Royal Conservatory's most prestigious scholarships.
About the Music
Stravinsky and Poulenc also had a mutual admiration; Stravinsky once writing to Poulenc, "You are truly good, and that is what I find again and again in your music". Also, both Igor Stravinsky and Francis Poulenc were stylistically inspired by early music composers. Sometimes the way to move forward is to look to the past for inspiration. The program begins in Paris with music of Claude Debussy, shifting then to Poulenc's charming Suite Française, then to Stravinsky (who was born in St. Petersburg but lived most of his life in Paris) with his Suite Italienne, leading us at last to Pesaro, Italy, the birthplace of Giocchino Rossini, for a raucous arrangement of his famous aria from The Barber of Seville.
About the Artists
David Liam Roberts – cello
Winner of the 2021 Canada Council for the Arts' Michael Measures 1st Prize, David Liam Roberts has established a reputation as one of Canada's most promising cellists. David Liam was awarded both the 1st Prize and Grand Award at the 2018 National Music Festival of Canada and recently won 1st Prize of the 2022 biennial WMC McLellan Competition after performing the Schumann Cello Concerto as soloist with the Winnipeg Symphony Orchestra in the competition's final round.
Upcoming engagements include a 3-week recital tour of the Atlantic provinces in March 2023 with pianist LaLa Lee as 2022-23 Debut Atlantic touring artists. Recent engagements include a solo appearance with the Winnipeg Symphony in a subscription concert performing double cello concerti with Yuri Hooker (conducted by Daniel Raiskin), recorded concerts presented by the Women's Musical Club of Winnipeg and Virtuosi Concerts, and a solo recital in collaboration with Winnipeg's Polycoro Chamber Choir and multimedia artist Taylor McArthur.
Chamber music has been an integral part of David Liam's life since he started busking with his older siblings at age 5, playing Métis fiddle tunes in his home province of Manitoba. Recent highlights have been collaborating with pianist Nicolas Namoradze and violinists Joel Link (Dover Quartet) and Scott St. John at the Toronto Summer Music Festival. David Liam is a regular extra with the Toronto Symphony since the 2021-22 season.
David Liam plays a Ruggeri-model cello that was made for him in 2017 by Winnipeg-based luthier, Garth Lee.
LaLa Lee – piano
Praised for her sensitive expression and profound understanding of music, LaLa Lee is described by Juno Award winning composer Dinuk Wijeratne as "undoubtedly a talent to watch". The 21-year-old pianist has delighted audiences worldwide with solo, chamber, and orchestral performances and was named as one of CBC's 30 Hot Classical Musicians under 30. In the past, she has been invited to perform at a private function for Renée Fleming and Alexander Shelley and was a Featured Artist at the Scotia Festival of Music where she collaborated with Phil Myers, former Principal Horn of the New York Philharmonic.
In celebration of the 250th anniversary of Beethoven's birth, LaLa gave a recital entitled "Beethoven's Birthday Bash" at Mazzoleni Hall featuring only his works and performed two violin sonatas with her duo partner in a Beethoven Violin Sonata marathon concert at the Concerts@100 Series. Despite the pandemic, she continued the year-long celebration with two more all-Beethoven recitals at the Lunenburg Academy of Music Performance's Beethoven Festival in October. She also gave four recitals for Cecilia Concerts and will perform Beethoven's 4th Piano Concerto with Ensemble Testori in Milan, Italy as well as Mozart's Piano Concerto No. 21 with Mandle Philharmonic in Toronto.
Despite her young age, LaLa has performed with many great musicians including conductors Bernhard Gueller, Muhai Tang, Dinuk Wijeratne, and Daniel Bartholomew-Poyser. She has played with orchestras including the Shanghai Philharmonic, Xiamen Philharmonic Orchestra, Symphony Nova Scotia, Nova Sinfonia, and Chebucto Symphony Orchestra. In 2018 alone, LaLa was the youngest finalist at the SteppingStone Competition; gave an extensive recital tour across 4 cities in China over 5 days for the China International Music Festival; performed in halls such as the Shanghai Oriental Arts Centre, Shanghai Symphony Hall, and Hefei Grand Theatre, Poly Culture Group; and taught her first masterclass at the Changzhou Music School.
LaLa is regularly programmed at concert series such as Cecilia Concerts and The Music Room Chamber Players Series. She has been featured in recitals at Morningside Music Bridge, Orford Music Festival, and Scotia Festival of Music. LaLa has had the distinct honour of performing in masterclasses for Martha Argerich, the late Leon Fleisher, Scott St John, and Andrew Armstrong; and has worked with Janina Fialkowska, Denise Djokic, Walter Delahunt, and Tim Fain. Since the age of 5, she began playing fundraising concerts for the IWK Children's Hospital and Foundation, The Great Big Dig, Nova Scotia Youth Orchestra, and Gilda's Club.
Originally from Halifax, Nova Scotia, LaLa is currently studying to earn her Bachelor's of Music (Honours) at the Glenn Gould School of Music, in the studio of John Perry and David Louie. She has been awarded the prestigious Henry Hung Foundation full scholarship and stipend. From the age of three, LaLa began learning piano, studying at the Maritime Conservatory of Performing Arts and with Lynn Stodola of Dalhousie University. When she is not found at the piano, LaLa enjoys baking, writing, and being outdoors.