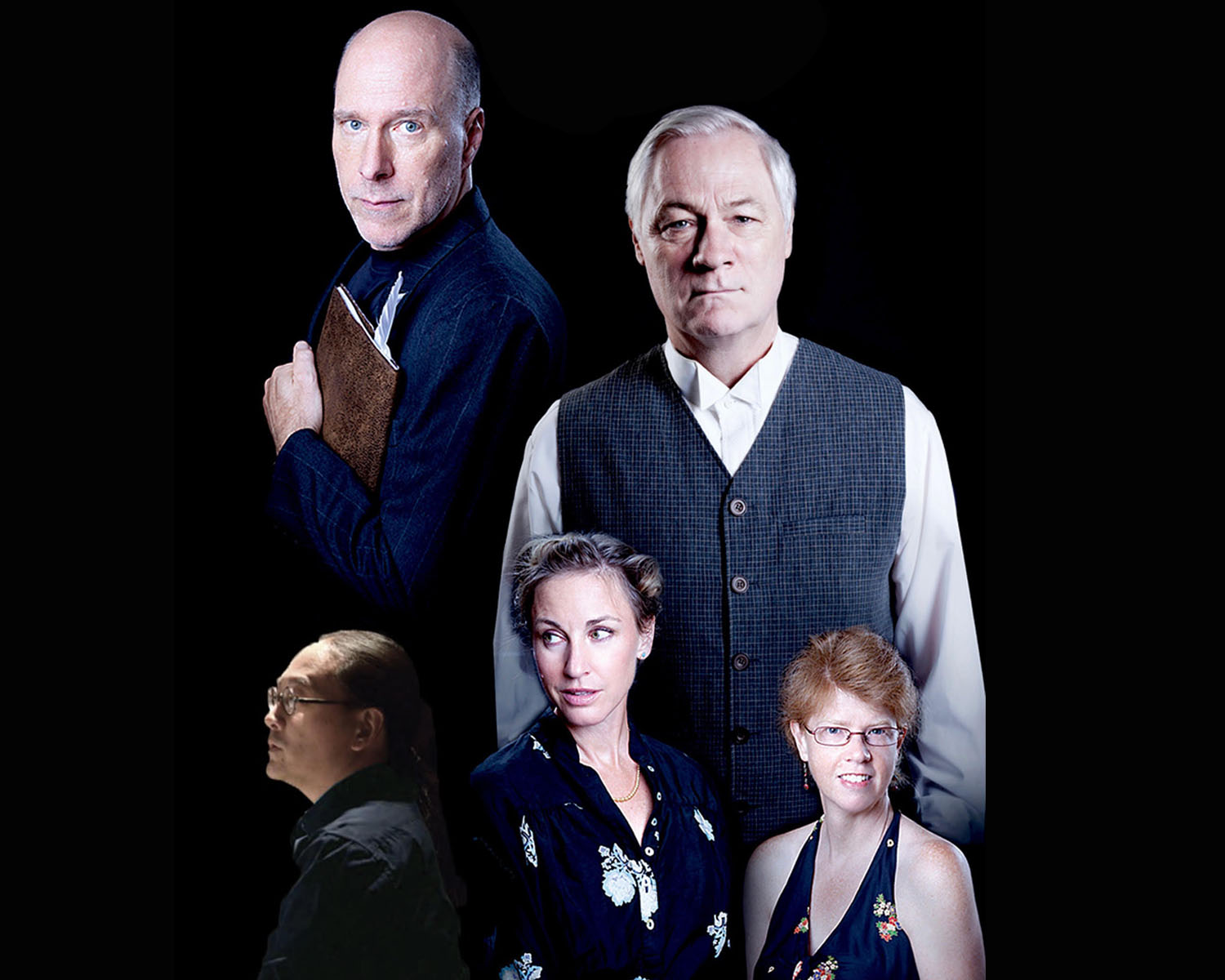 Thursday April 27 2023, 7:00 PM
Tom Allen's The Missing Pages
St John's Anglican Church Lunenburg
Thursday 27 April – 7:00 PM

$25 at the door, $20 advance, students $10. Email for advance reservation. Tickets also online and at the door.
Featuring
Tom Allen
writer / director / narrator / actor / Anton Schindler
Derek Boyes
actor / Ludwig van Beethoven
Patricia O'Callaghan
vocals / actor / Susanna Sotto
About
Tom Allen's "The Missing Pages" is the true story of the one Canadian to actually meet Beethoven in person. Tom Allen has been with the CBC for years as host on Music & Company, Fresh Air, This Morning and more. He has also been touring a type of show he calls "chamber musicals", a blend of theatrical storytelling, humor, drama and music which he creates from little-known facts about the music world. Join Musique Royale for this refreshing evening of storytelling and music!
About the Artists
Tom Allen (in his words)
I was born in Montreal and went to school there, at Marianapolis College and McGill, before finishing degrees at Boston University and Yale. I worked as a bass trombonist in New York City when there were still places you just didn't go, in Toronto, and on tour with the Great Lakes Brass. I began working for the CBC on my 30th birthday, a very long time ago, and at the time of writing I still am. I have since written three books, with a fourth on the way, become a Resident Artist with Soulpepper Theatre and hosted many spectacular concerts there, and written a series of cabaret storytelling shows we call Chamber Musicals, including Bohemians in Brooklyn, The Judgment of Paris and From Weimar to Vaudeville, The Last Curlew and The Missing Pages. I live in Toronto with my beloved, the harpist Lori Gemmell, our son, and a very enthusiastic dog.
Derek Boyes, actor
One of Canada's best-known theatre practitioners, Derek Boyes has been an actor and director in more than 150 productions from coast to coast in North America. He has been an ensemble member of The Soulpepper Theatre Company since 2004 and a resident artist there since 2008. He has led their audience enrichment program for 11 years and continues to be responsible for all of their preshow and post show audience connections. He was a long time artistic associate of Toronto Masque Theatre. He has performed with both the Stratford and Shaw festivals and has travelled the world with the live theatre productions of Beethoven Lives Upstairs and Vivaldi's Ring of Mystery. He is also the voice of Mozart in the Juno award winning Mozart's Magnificent Voyage.
Patricia O'Callaghan, vocals, actor
"She's one of the best singers ever to come out of Canada." - Vivascene, 2012 "This Toronto soprano can sing a 100-year-old German tune so lustily that you almost don't need a translation to know that someone's about to get his throat cut or get laid or both." - The National Post "O'Callaghan sings her diverse material as if it was always meant to go side-by-side and by the end of the evening, it's easy to believe her." - Chart Attack Magazine
Patricia O'Callaghan is something of a wandering minstrel. Her fifteen-year career has taken her across genres, continents, and a range of disciplines and passions. Her recording career spans six solo CDs and many interesting guest collaborations. A speaker of French, Spanish, and German, her early recordings focused on European cabaret, and she is considered a specialist in the music of Kurt Weill. Patricia has performed his Threepenny Opera, Seven Deadly Sins, and Kleine Mahagonny with Soulpepper Theatre Company, Edmonton Opera, and Vancouver Opera, to name a few. One of Patricia's most unique talents is the ability blend a variety of languages and musical genres seamlessly together in her concerts, and completely embody whatever style she is singing at any given moment.
She has sung with some of the world's great ensembles and artists (Orpheus Chamber Orchestra, Don Byron Quartet, Bryn Terfel), and has performed in venues that range from London's Royal Opera House to New York's Noho cabaret Le Poisson Rouge. Patricia also writes and co-writes songs and has had the honor of premiering many new compositions, from both the classical and pop worlds. It has been her great privilege to work with such creators as R. Murray Schafer, Dennis Lee, Christos Hatzis, George Aperghis, Steve Reich, and Steven Page, to name a few.
Patricia's film, theatre and television credits include her own Bravo! special, The CBC produced Ken Finkleman series Foolish Heart, and the semi autobiographical Rhombus / Westwind film Youkali Hotel, which has won several prizes, including a Golden Sheaf Award to Patricia for best female performance. Ms. O'Callaghan has also received other awards, such as a Chalmer's Grant from the Ontario Arts Council and a Fleck Fellowship from The Banff Centre for the Arts. She completed a six year stint as a Resident Artist at Toronto's Soulpepper Theatre Company. Her responsibilities there included conducting, teaching, mentoring young artists, producing, curating and performing in festivals, and developing new work.
She has a projected "Broken Hearts and Madmen" in collaboration with The Gryphon Trio, which blends classical music with traditional songs from Latin America and pop songs from around the world. "Broken Hearts and Madmen is an exquisite piece of work. The result is absolutely breathtaking in its attention to detail, with every note carved from their love of the songs…" Vivoscene
Another project, "Matador: The Songs of Leonard Cohen" is described as "A truly exceptional blend of natural expressiveness and masterful coloration" - Billboard Magazine
Gregory Oh, piano, actor
Gregory Oh tends to wander the genres, appearing in places from the legendary Berlin techno club Berghain to the Lincoln Centre. Recently he conducted Bearing (Signal) and While 100 Guitars Gently Weep (Bradyworks) at the Luminato Festival and the Canadian premiere of Toshio Hosokawa's The Raven at the University of Toronto New Music Festival, appeared as the piano soloist in Scott Good's Hands of Orlac with the London Symphonia and Kitchener-Waterloo Symphony, toured Rwanda and the UK with Neema Bickersteth and Century Song (Volcano), and was featured as conductor and pianist at the Shanghai New Music Festival. He also worked with and performed the music of hundreds of composers including Steve Reich, Phillip Glass, John Adams, Kaija Saariaho, Frederic Rzewski and Jörg Widmann. Other credits: Continuum, Soundstreams, the Toronto Symphony Orchestra, the Canadian Opera Company, the Evergreen Gamelan Club, Native Earth, Canadian Stage, Soulpepper, Tapestry New Opera, Canadian Rep Theatre, Theatre Direct, Arraymusic, New Music Concerts and San Diego Opera. He teaches at the University of Toronto and NYO Canada.
Lori Gemmel, harp
Lori Gemmell has been the principal harpist with the Kitchener-Waterloo Symphony since 2000. She currently teaches at Wilfred Laurier University and privately at her home studio in Toronto. Gemmell enjoys being involved in many solo and chamber music projects: with the Four Seasons Harp Quartet, with trumpeter Larry Larson, improvising with her harp duo partner Jennifer Swartz, storytelling with her husband Tom Allen, and playing with pop artists Kevin Fox and Feist. She has two solo recordings, Prelude and Canadian Music for Harp, a harp duo recording with Jennifer Swartz, The Garden of Peacocks, and Divertissement with trumpeter Larry Larson.