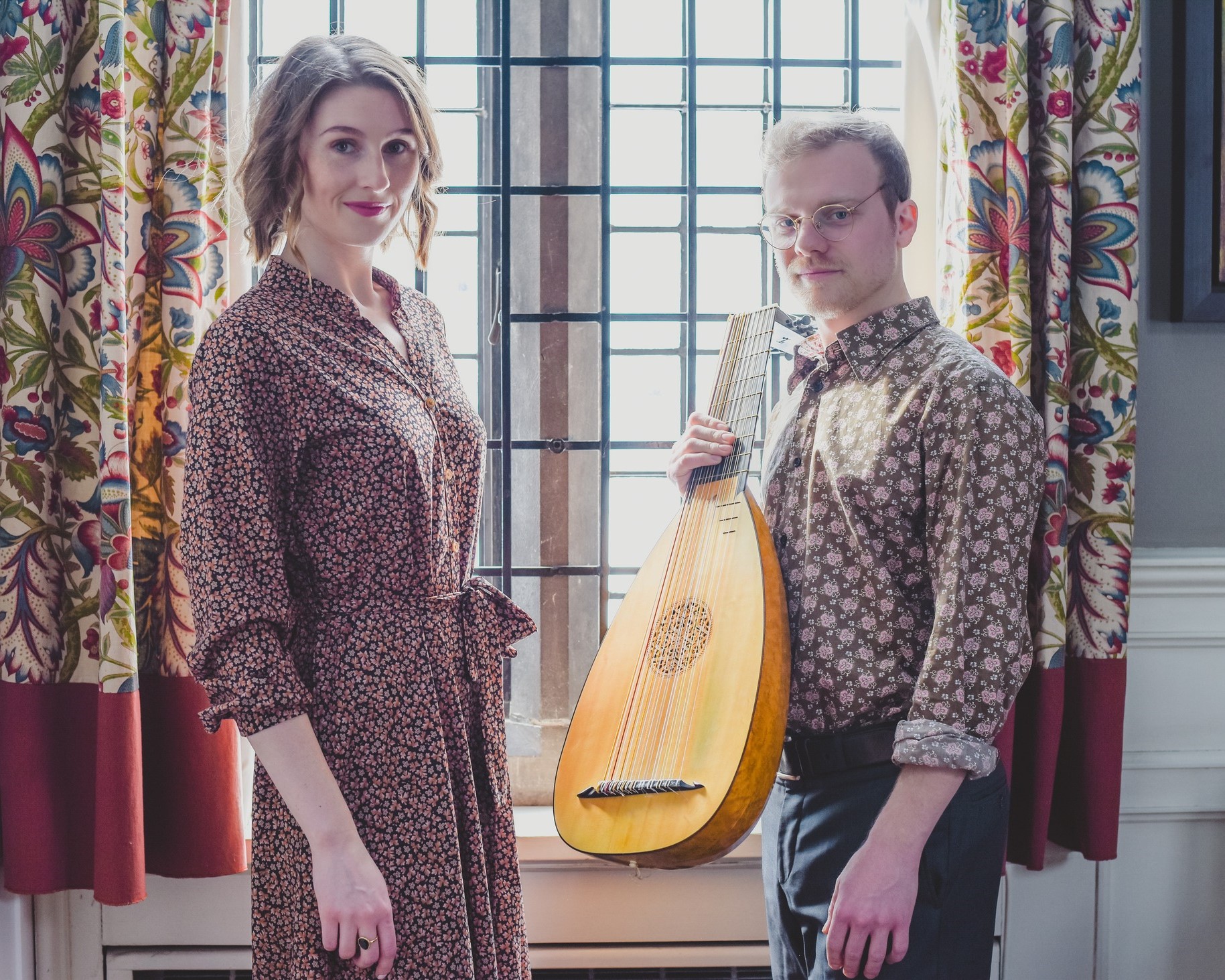 August 8 - 11, 2023
Duo Oriana
About
Musique Royale invites you to hear "How Like A Golden Dream" featuring Duo Oriana (soprano Sinead White and lutenist Jonathan Stuchbury), performing music from their new album on tour in historic venues across Nova Scotia, part of our 38th Summer Festival. The repertoire on How Like a Golden Dream traverses the sacred and the secular; 17th-century hymns and antiphons from the Office of Hours, sung at Vespers and Compline in monasteries and Irish folk songs influenced by Celtic missionaries. As a duo, the luminous voice of soprano Sinéad White illuminates the long shadows of dusk and night. Lutenist Jonathan Stuchbery adds energizing precision and with both lute and theorbo, bringing silvery gusts of harmonic colours. Concerts take place from August 8-11, in Parrsboro, Johnstown, Wolfville, and Mahone Bay, with two solo concerts performed by Jonathan the following evenings.
About Duo Oriana
Soprano Sinéad White and lutenist Jonathan Stuchbery form Duo Oriana, a Toronto based duo breathing life into song traditions that span centuries and evolve in the present day. Noted for their "impeccable rhythmic ensemble" (La Scena Musicale), White's "luminous" soprano, and Stuchbery's "energizing precision" (The Whole Note), they are quickly becoming a well known ensemble across Canada. They have presented themselves at series and festivals, including Early Music America, Musique Royale, Festival Montréal Baroque, Hammer Baroque, and Living Room Live. Their emphasis on creative, and thematic programming is displayed on their 2023 album 'How Like a Golden Dream', which explores the symbolism of the night-time reflected across centuries of poetry and music making. 'How Like a Golden Dream' is Duo Oriana's first release with the Canadian label Leaf Music, and was highlighted on the Whole Note magazine's "Listening Room". Duo Oriana engage themselves not only as interpreters, but actively as composers and arrangers through the writing of new music for lute and soprano, and the arrangement of traditional music that forms an important part of their repertoire. A film version of their 2021 concert 'Early Music from Ireland and Great Britain' is available on youtube, as well as their 2022 Early Music America showcase concert. In 2022, Duo Oriana were also appointed artists in residence at St. James Cathedral in downtown Toronto. September 2023 brings them to the UK and Ireland on tour in support of 'How Like a Golden Dream'.
Sinéad and Jonathan both have extensive experience in the discipline of historical performance. Sinéad is currently a DMA student at the University of Toronto, and Jonathan a graduate of the Masters in Interpretation of Early Music at ESMUC in Barcelona. Their formation in this field grounds them in performance practice, yet also inspires the creativity of their arrangements and compositions. Individually, they are recognized performers in the Canadian early music scene, and they can also be heard together in larger ensemble contexts, such as with Tafelmusik Baroque Orchestra and Chamber Choir, indie early music company Aureas Voces, and Theatre of Early Music.