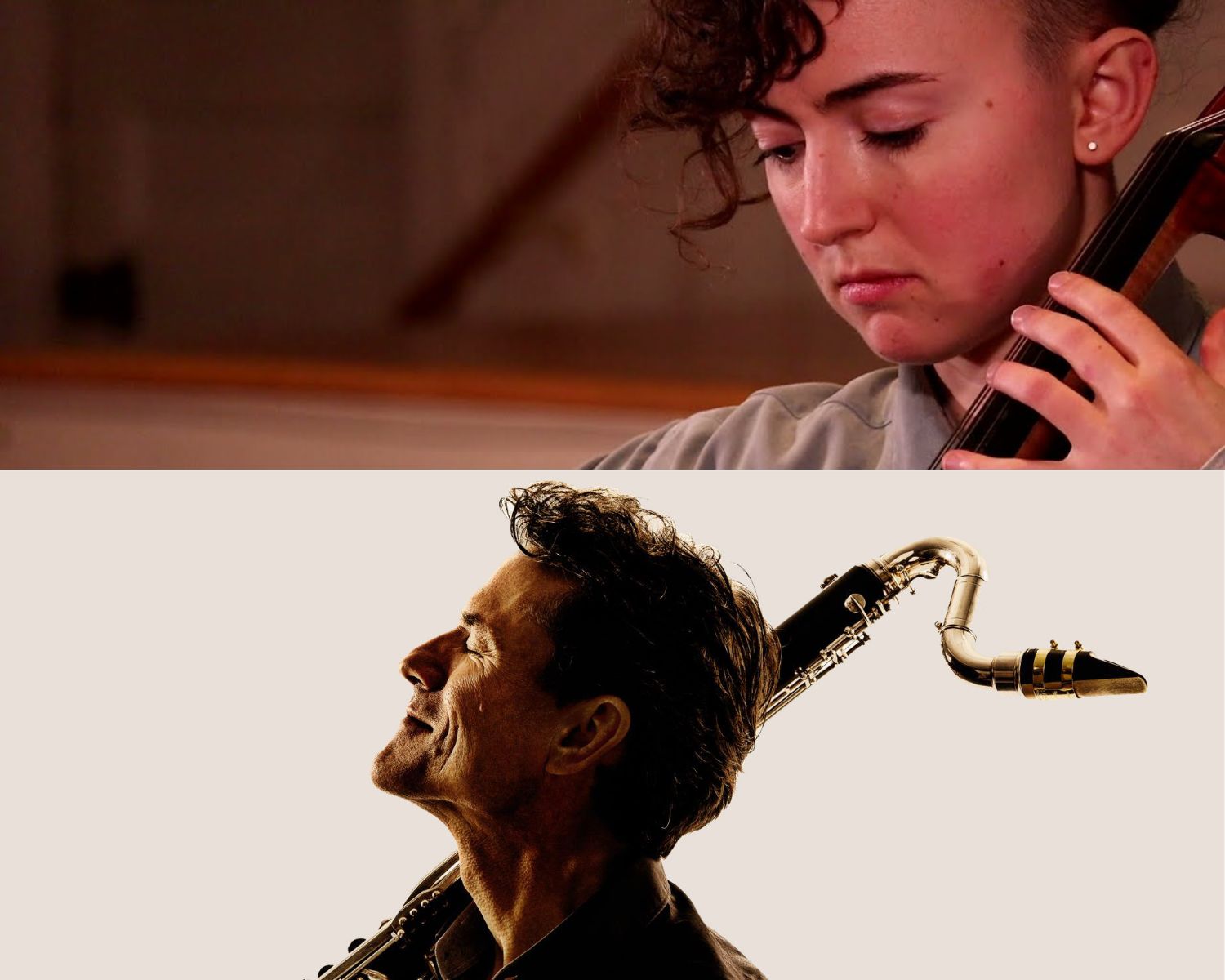 Tuesday September 5 2023, 8:00 PM
Across The Waters
Cecilia's Retreat
Tuesday 5 September – 8:00 PM

Email barbara.butler@ns.sympatico.ca for advance reservation. Free event, by advance reservation if in attendance at Cecilia's Retreat, donations accepted to support the Mahone Bay Islands Conservation Association.
About
Musique Royale invites you to a special evening event, featuring cellist India Gailey and bass clarinetist Jeff Reilly. From just above the shore at Cecilia's Retreat, across to a boat in the waters of Mader's Cove, the performers will play to one another, and we can hear the music mingle with the natural sounds of twilight. Audiences may listen at Cecilia's Retreat or enjoy it in your own chosen setting nearby. For those coming to Cecilia's Retreat, we request everyone reserve in advance, you are invited to come around 8 pm, with the music starting sometime before 8:30 pm. The artists will play for about 45 minutes. Admission is free, and donations will be accepted to support the Mahone Bay Islands Conservation Association.
About the Artists
India Gailey, cello
India Gailey (she/they) is an American-Canadian cellist, composer, vocalist, and improviser currently based in Kjipuktuk (Halifax, Nova Scotia). She draws from many eras and genres to craft poetic narratives of sound, most often performing in the realms of classical and experimental music. She frequently works with living composers, musicians outside of the Western Classical tradition, and the intersection of standard and obscure. Named by CBC as one of "30 hot Canadian classical musicians under 30," India has toured across the Western hemisphere as a soloist, chamber musician, and collaborator. India is also a member of the award-winning improvisational quartet New Hermitage, which recently released their fifth recording, Unearth, to critical acclaim.
India recently completed her Master of Music degree at McGill's Schulich School of Music under the tutelage of Matt Haimovitz. Since then, she has worked with several much-admired composers of our time, including Philip Glass, Yaz Lancaster, Amy Brandon, Michael Harrison, Anne Lanzilotti, Nicole Lizée, and Andrew Noseworthy. India's most recent work has been presented by organizations such as the Canadian Music Centre (TO), Government House (NS), International Contemporary Ensemble (NY), Metropolis Ensemble (NY), and Upstream Music (NS). India released her debut album, Lucid, in 2017, followed by to you through (Redshift Records, 2022), which was praised as "a truly exceptional display of unparalleled talent" (Take Effect) that "flows like poetry" (The Whole Note). Forthcoming are the release of Lizée's "Bookburners," ft. NYC-based turntablist DJ P-Love, as well as a series of commissioned works written especially for India by Canadian composers.
India holds numerous honours, including awards from the Nova Scotia Talent Trust, the Canada Council for the Arts, Acadia University, and McGill University. In 2021, she was bestowed an "Emerging Artist Recognition Award" from Arts Nova Scotia. Venues at which she has performed or held residencies include the Canadian Music Centre, Domaine Forget, Garth Newel Music Center, Green Lake Festival, Halifax Jazz Festival, OBEY Convention, Open Waters Festival, Scotia Festival of Music, Tuckamore Festival, and other various halls, galleries, homes, bars, gardens, and castles.
India received her Bachelor of Music degree from Acadia University, where she studied with Norman Adams and Christoph Both. Over the years, she has played in masterclasses for renowned cellists such as Emmanuelle Bertrand, Colin Carr, Denise Djokic, Blair Lofgren, Antonio Lysy, Philippe Müller, and Shauna Rolston. Chamber music mentors include Denise Lupien, Ilya Poletaev, members of the Daedalus, Kronos, and Shanghai string quartets, Garth Newel Piano Quartet, Apple Hill Chamber Players, and Gryphon Trio. She studied improvisation with Jerry Granelli and Javanese Gamelan with Ken Shorley.
As a composer, India is inspired by interdisciplinary interaction, and her compositions often explore environmentalism, magical realism, or minimalism. In addition to her musical studies, she has studied visual art at NSCAD University, and as a child studied ballet and contemporary dance, these other disciplines informing her compositional work. She has written music for Symphony Nova Scotia, Ear Camera, Keep Good (Theatre) Company, The Acadia Gamelan Ensemble, New Hermitage, and for various combos of musicians and dancers. She also serves on the Board of Directors for the Scotia Festival of Music, as an adjudicator for various national competitions, and she facilitates workshops on mindfulness, music, cello playing, and improvisation. India enjoys making visual art, writing poetry, meditating, and being with the trees, rocks, sky, and earth.
Jeff Reilly, bass clarinet Jeff Reilly leads a multifaceted life as a bass clarinettist, composer, conductor, and producer. He is a musician with a broad and extensive scope of work. A twice Juno-nominated bass clarinetist as well as a composer, conductor, improviser, and producer, Jeff has appeared a soloist with the Elora Singers, Symphony Nova Scotia, the Winnipeg New Music Festival, Elmer Iseler Singers, the Canadian Chamber Choir, Calgary's Luminous Voices, Ottawa's 13 Strings and across Canada, USA, Europe and Asia in the groundbreaking trio Sanctuary. His approach to music blurs any simple distinctions between improvisation and composition, and he strives to do it with such integrity that we are reminded that these distinctions are moot.
Jeff has recorded and performed with Jerry Granelli, Ben Caplan, Barry Guy, Maya Homburger, John Potter, Peter Togni, Suzie Leblanc and Tom Allen. He is active in many musical projects including the Blackwood Duo, New Hermitage, Upstream Music and with James Shaw's Vesuvius Big Band. As a soloist on the German ECM New Series label, his interpretation of Peter-Anthony Togni's Lamentations of Jeremiah was praised by the British critic Norman Lebrecht: "The virtuoso clarinetist Jeff Reilly extends his cadenzas across the history of sound, from monotony to modernism, in a performance that is dominant and often hypnotic"
A long-time music producer with the Canadian Broadcasting corporation, he has produced thousands of hours of radio programming, including 4 multi-episode documentaries on music for the program IDEAS. He has produced hundreds of concert recordings of classical, jazz, world and contemporary music, hundreds of studio sessions and over 25 CD's of Canadian jazz and classical music including releases on CBC record, Tafelmusic Media, Warner Classics UK, Centrediscs, NAXOS and Leaf Music. Over the years 6 of his CD productions have received Juno nominations.
Jeff has composed dozens of works for orchestra, big band, jazz composer's orchestras, bass clarinet ensembles, chamber jazz groups and for his duo Blackwood with long-time collaborator Peter-Anthony Togni. In 2022 he received an Arts Nova Scotia grant to write a suite of compositions for James Shaw's Vesuvius Big Band, to be premiered at the Halifax Jazz Festival in 2023. Jeff is the regular conductor of the Upstream Orchestra, a jazz composer's orchestra based in Halifax.