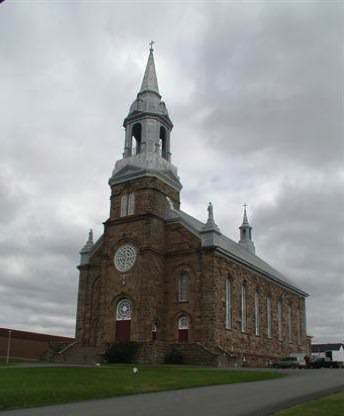 Cheticamp
Eglise Saint-Pierre
Cheticamp is an Acadian Parish founded in 1785. The actual church was constructed in 1893 at the cost of $41,950 by Father Fiset whose tomb may be visited under the Sanctuary. Stones for the construction were hauled on the ice by groups of parishioners from Cheticamp Island across the harbour.
The church is 212 feet long, 74 feet wide and the steeple rises to 167 feet. In 1957 the church was repainted and decorated, frescoes and stained glass windows were added. The organ, one of the first Casavant, was acquired in 1904 and is still in excellent condition.
St. Peter's Church is situated on high grounds near the harbour and can be seen from all parts of the Parish, from the mountains and from the sea for many miles around. This imposing monument, with its architecture, its frescoes and its stained glass windows, is one of the most beautiful churches in the Maritime Provinces. It is also a witness to the deep faith and determination of its parishioners of past and present generations.