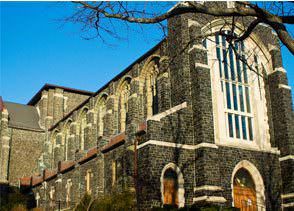 Halifax
Cathedral Church of All Saints
An architectural jewel, the Cathedral Church of All Saints is one of the finest examples of perpendicular gothic style in Canada. Soaring arches rise toward the vaulted ceiling nearly seven stories in height. The wood carvings of Robert "mousie" Thompson, in the sanctuary, the chancel, and the signature pulpit, took 30 years to complete and are the only example of Thompson's work in Canada. Equally notable is the cathedral's 5,000-pipe organ, the second largest in the Maritimes.
As the cathedral church for the Anglican Diocese of Nova Scotia and Prince Edward Island, All Saints is the gathering place for liturgical events which draw and unite people from across two provinces. On Sundays and throughout the week, their doors are open to provide a respite for those seeking spiritual refreshment, refuge, and inspiration.
Capella Regalis sing regularly at Evensongs through the year and present their final concert of the 2017 spring tour on June 15.