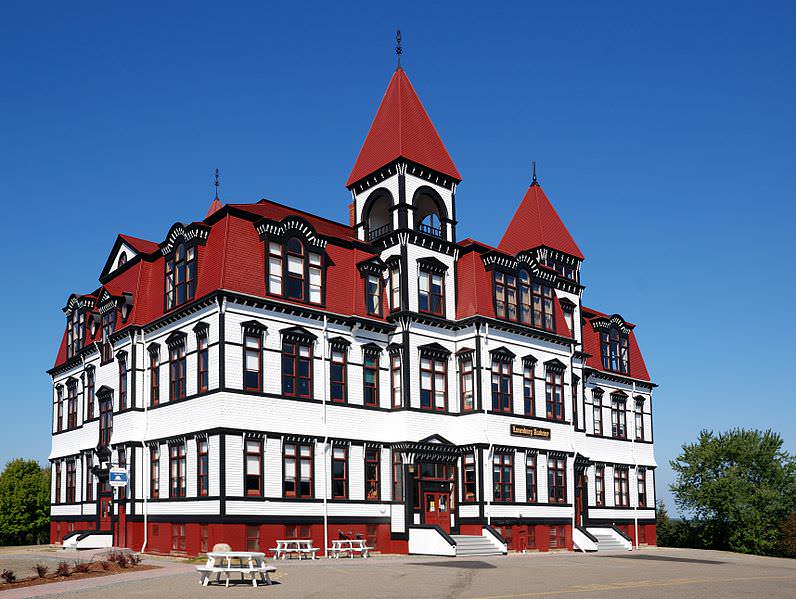 Lunenburg
Lunenburg Academy
The Lunenburg Academy is one of the defining features of the UNESCO World Heritage Site of Lunenburg, Nova Scotia. Standing on top of "Gallows Hill," the Academy, like a great Victorian matriarch, surveys her family of distinctive and beautiful homes in the old town. Visible for miles around, it is an outstanding landmark and one of the most remarkable heritage buildings in the province. It has been designated as a municipal, provincial and federal heritage site, and was recently restored.
The Lunenburg Academy was built from 1894 to 1895 and was designed by noted architect H.H. Mott. It is the only intact 19th century academy building surviving in Nova Scotia. The building had a long educational history in the town until 2010, when a new school was built in Lunenburg. The Lunenburg Academy is now owned by the Town of Lunenburg, and is the home of the Lunenburg Academy of Music Performance.
The building has many wonderful historical features, but the 200-seat auditorium on the third floor, overlooking Old Town Lunenburg, is certainly a high point. High ceilings with wooden detailing, the Lunenburg Academy of Music Performance space features large, airy classrooms and practice rooms, as well as a full library of DVDs and CDs. A state of the art recording studio ensures that rehearsals and performances can be recorded and live streamed.