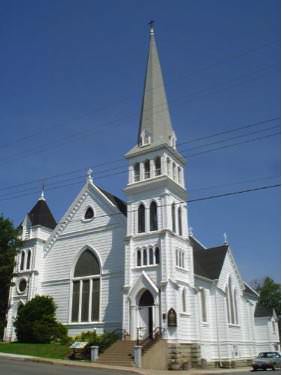 Lunenburg
Zion Evangelical Lutheran Church
65 Fox Street. Lunenburg. The Zion Evangelical Lutheran Church in Lunenburg has been described as the "Rock of Lutheranism" in Canada. It is the oldest worshipping Lutheran congregation in the country and traces its history back to the earliest days of the settlement, when services were held in the open air and, later, in the St. John's Anglican Church. In 1772, with the arrival of the Rev. Frederick Schultz, a first church building was erected. Nothing remains of that first building, however, except the key and the bell. The bell is of particular historical note in that it originally hung in the Fortress of Louisbourg. Known as the Antoine-Marie bell, it was purchased by the congregation in 1776 and was hung in the first church. In 1841 under the ministry of the Rev. Charles Cossman, the old church was removed and replaced by a new Gothic structure.
In 1888, the second church was taken down and replaced by the present building. The cornerstone was laid in 1890 and the church officially opened in July 1891. The church is designed in the High Victorian Gothic style. Its long, gable roofed nave runs between Fox and York streets and has a main gable end which is richly ornamented with moulded wooden belt courses, dentil courses, and a large stained glass window that serves as a memorial to the Rev. Cossman. Asymmetrical buttressed towers are attached at the corners of the nave. The small tower has a pointed doorway at ground level, a circular "oculus" window on the second storey, paired lancet windows on the third level, and a squat, pyramidal tower with a louvered gablet on its front face and a finial at its peak.
The larger tower has a pointed arched doorway built out in relief from the main wall and an ascending series of mullioned lancet windows on the second and third stories. A tall spire caps the 4th story belfry with small louvered gablets on four sides.