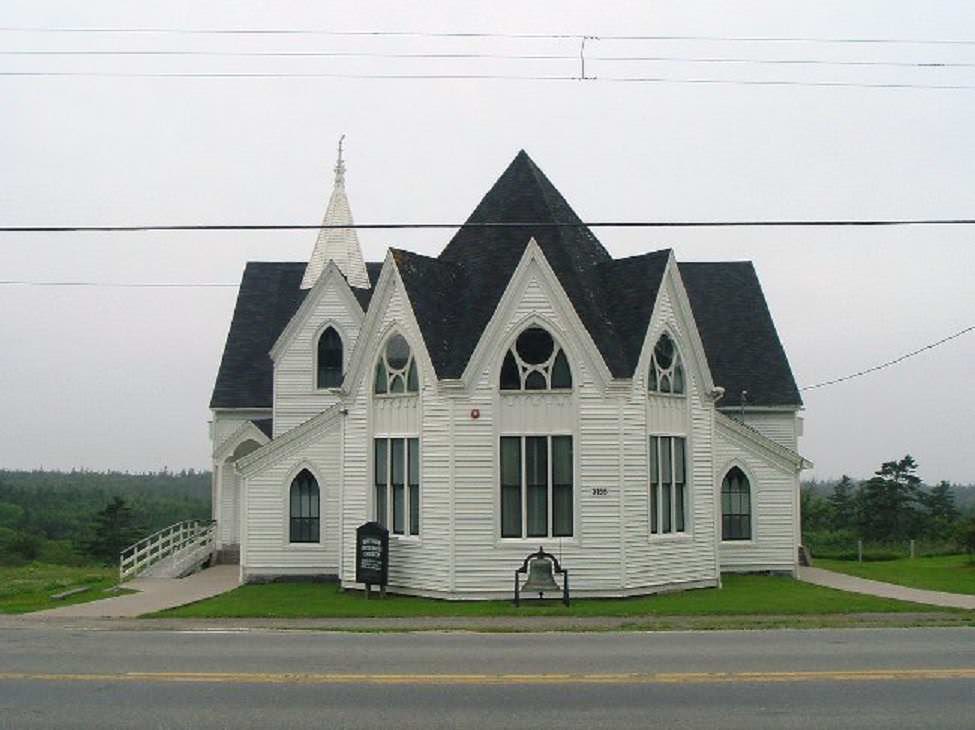 Port Maitland
Bay View United Baptist
Gothic Revival Style church had ab asymmetrical facade with 5 sided front projection and recessed north- and south facing entrances in small open porches on each side. The steeply pitched roof has three cross gales on front projection an off centre chimney and a tower / steeple with a finial over the south entrance. There are triple windows in the 3 front sides of the projection which have double hung sashes and 1/1 glazing; pointed arch windows above have tracery and stained glass. There are large quadruple lancet windows in the north and south gable ends of the transept which have tracery and stained glass in the top arches. Most other windows are lancet or rectangular with double hung sashes and 3/3 glazing. Wood construction, clad with Vinyl siding.
This is the third Baptist church to have been built on this site, the first two having burned in 1879 and March 1892. This building was started in September of 1892, the architect was J.B. Kinney and building contractor was Howard C. Curry. The progress of construction was followed closely in Yarmouth Light newspaper, from September 8, 1892 to October 5 1993, shortly after its completion.
West sis of road. The taller bell tower over north entrance was removed and north entry porch roof changed in 1978. Wheelchair ramp added in 1983. Chimney has had a new top built sometime sine 1992.
Location: 3155 Hwy 1, Port Maitland
Contact:Joan Semple