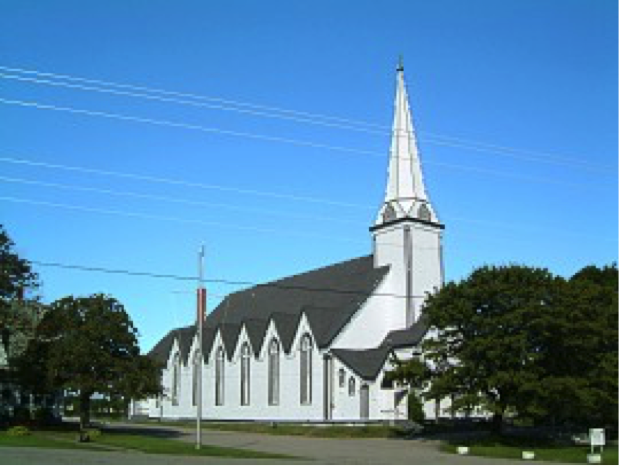 West Pubnico
Eglise St-Pierre
L'histoire de l'église Saint-Pierre
L'église Saint-Pierre fut commencée en 1889 par le Père Sullivan. La construction avancée a permis d'y célébrer la messe de minuit en 1891. Elle fut achevée en 1892. Elle fut précédée par 2 autres : la première construite en 1810, sur le bord de l'ouest du havre de Pubnico, était située sur l'autre côté du chemin du vieux cimetière sur le chemin « Old School Road ». La seconde fut construite en 1840, après avoir démolie la première. Elle fut bénie par le Père Goudot le 8 janvier. Aujourd'hui, notre belle et grande église sert encore de lieu véritable de rencontre de tous les chrétiens, autour de Celui qui est venue « rassembler les enfants de Dieu dispersés » : Jésus Christ; pour écouter la Parole de Dieu et manger à la table eucharistique le Corps du Seigneur.
A short history of Saint Peter's Church
Saint Peter's was first started in 1889 by Father Sullivan. With the advanced construction of the building, it was possible to celebrate the midnight Mass of Christmas 1892 in the new church. There were two preceding churches for this parish. The first one was built in 1810 and was situated alongside the Pubnico harbor on the West side. The second one was built in 1840 after the first one was demolished. This one was blessed by Father Goudot on January 8, 1840. Today our big, beautiful church is still a place where all Christians can gather to hear the Gospel and to celebrate in the eucharist by eating the bread of life at the table of the Lord.