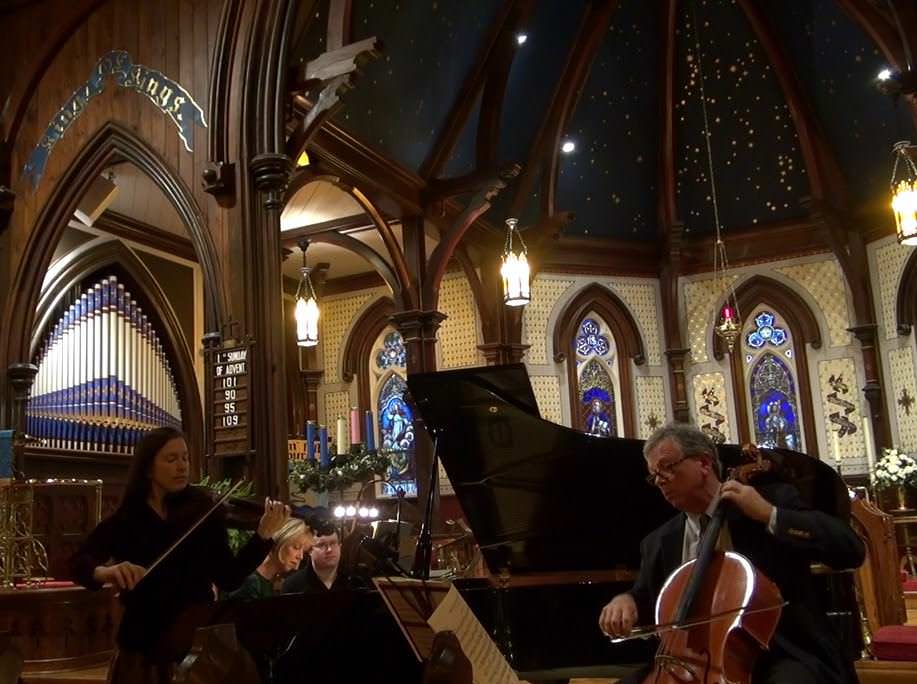 Sunday February 10 2019, 4:00 PM
The Perseus Trio
About
Cecilia's Retreat welcomes The Perseus Trio as they perform works of Beethoven and Dvorak on Sunday, Oct 21st at 5pm. The members - Sharon Gow-Knickle, piano; Bonnie Romkey, violin; and Ifan Williams, cello - first met as a group beneath the dome ceiling above the chancel of St. John's Anglican church in Lunenburg, upon which is painted the constellation of Perseus as it appeared in the night sky above the church on the night of the first Christmas. The trio brings together players with a wide range of chamber music experience in Canada, the United States, and the UK.
Hear Beethoven's Piano Trio in E flat Major, Op. 1, No. 1, the composers first work to be released as a major publication, introducing his style of writing to the musical public, whose response was a major success critically and commercially. The trio will also present Dvořák's Piano Trio No. 3 in f-minor, a work fraught with tragic conflict (having been written following the death of the composers mother and as Dvorak mediated pressure from colleagues to adapt his composition style) and one that demonstrates his reaching a new level of musical maturity.
Bonnie Romkey, violin, has recently moved to the province with her Nova Scotian-born husband of 15 years. A native of Utah, Bonnie studied violin at BYU (Performance and Pedagogy), and twice toured the U.S.A. with the BYU Chamber Orchestra. After winning the Utah Advanced Violin Competition at 19, Bonnie performed regularly with Barlow Bradford's Utah Chamber Artists, and recorded television and movie soundtracks with L.A. East Studios. After serving as her tenure as concertmaster and soloist with the Southwest Symphony in St. George, Utah, Bonnie played first violin with the Empyrean String Quartet. She has taught as an adjunct at the university level, and has produced more than 30 Music Sterling Scholars over the past decade. Modern communications technology allows Bonnie to teach violin to students from as far away as France, New Zealand, Kazakhstan, and Saudi Arabia.
Sharon Gow-Knickle is a graduate of Dalhousie University, where she received the Bachelor of Music degree in Piano Performance, a student of Professor Lynn Stodola. She also holds a Master of Music degree in Piano Performance from the Manhattan School of Music where she studied with Dr. Solomon Mikowsky. Ms. Gow-Knickle has served on the Piano Faculties of Acadamie Ste. Cecile, in Windsor, Ontario, and Mount Royal University Conservatory, in Calgary, Alberta. She has extensive experience as a collaborative pianist having freelanced in Toronto and as a member of the Accompanying Faculties at the University of Windsor and Mount Royal University, along with collaborations at the University of Calgary. Sharon has served as Examiner for the Maritime Conservatory of Performing Arts and has enjoyed giving Masterclasses for the Nova Scotia Registered Music Teachers Association and for students of the Maritime Conservatory.
Ifan Williams studied cello in New York and was a member of the London Symphony Orchestra. Back in Canada, he was a member of the Classical Quartet of Montreal, Musica Camerata, and the Canadian Chamber Ensemble. Ifan was Artist in Residence at UNB, professor of cello at Mt. Allison University and Ecole Normale de Musique in Montreal. In 2017, Ifan was featured as soloist with Halifax's Nova Sinfonia in a performance of Dvorak's cello concerto and in December 2017, his newly formed Perseus Trio had their first performance at St. John's Anglican Church in Lunenburg. Ifan is the former Artistic and Administrative Director of the Maritime Conservatory of Performing Arts, and current chair of Musique Royale and Opera Nova Scotia.