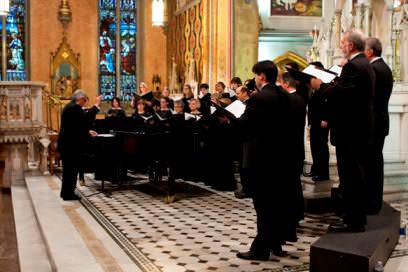 June 10-19
Halifax Camerata Singers and Maritime Brass Provincial Tour
Musique Royale presents Halifax's award-winning choir, Halifax Camerata Singers with special guests, Maritime Brass Quintet on a five-concert tour of the province. The tour includes stops in Wolfville, Lunenburg, Tatamagouche, Annapolis Royal and Saulnierville from June 10-19. Tickets are $20 regular and $10 for students.
Venues and dates are:
Friday, June 10 at 7:30 pm – Manning Memorial Chapel, Wolfville
Tickets are available by reservation at 902 582-3933, and at the door
Saturday, June 11 at 7:30 pm – St. John's Anglican Church, Lunenburg
Tickets are available at Shop on the Corner and at the door
Sunday, June 12 at 3:00 p.m. – Sharon United Church, Tatamagouche
Tickets are available at Fulton's Pharmacy, Main Street, Tatamagouche and at the door. For more information: 902 257-2519
Saturday, June 18 at 7:00 p.m. – United Church of St. Andrew and St. George, Annapolis Royal
Tickets are available at Bainton's Tannery Outlet Mad Hatter Bookstore, 213 St. George Street and at the door
Sunday, June 19 at 3:00 p.m. - Sacré Coeur (Sacred Heart) Church, Saulnierville Tickets and information are available at 902 769-2303 and 902 742-8765 and at the door
Included in the tour will be a new work written for the choir and the brass quintet by Nova Scotia composer, Peter-Anthony Togni, on the theme of the Acadian hymn, Ave Maris Stella. This commissioned work has been supported by Arts Nova Scotia. The choir will also perform a new commissioned piece from emerging Quebec composer Marie-Claire Saindon, who is expected to attend the Wolfville performance. Much of the repertoire is French inspired, and includes choral works by Palestrina, Mendelssohn, Canadians Diane Loomer and Larry Nickel, and Pastiche Quebecois for choir and brass by the late Howard Cable, with the Brass Quintet performing works by Giovanni Gabrielli and Victor Ewald.
The Halifax Camerata Singers includes performers from many parts of Nova Scotia and one from PEI, and is Atlantic Canada's leading chamber choir. Supported by the Canada Council for the Arts, the Lloyd Carr-Harris Foundation, the Province of Nova Scotia/Arts Nova Scotia, artsVest, Halifax Regional Municipality and individual donors and corporate supporters, the choir was founded in 1986 and has distinguished itself by performing exciting choral repertoire from many periods and styles, with special attention to Canadian music. Winners of the Healy Willan Grand Prize in the 2010 National Competition for Canadian Amateur Choirs, the choir often collaborates with chamber ensembles, Symphony Nova Scotia and other musicians.
The Maritime Brass Quintet, recently chosen as Debut Atlantic's 2015-16 Artists in Residence, brings the highest caliber chamber music to concert halls, churches, festivals and schools across the Maritimes. Since forming in the spring of 2011 the Quintet has performed on major concert series including Scotia Festival of Music and Acadia University, as well as collaborations with Capella Regalis and Paul Halley and the King's College Choir. Quintet members have performed or held positions with many of the world's leading ensembles, including the Chicago Symphony, Toronto Symphony, National Arts Arts Centre, Symphony Nova Scotia and l'Orchestre Symphonique de Montréal. The members are Curtis Dietz (trumpet), Richard Simoneau (trumpet), Gina Patterson (horn), Eric Mathis (trombone) and Bob Nicholson (tuba and bass trombone).