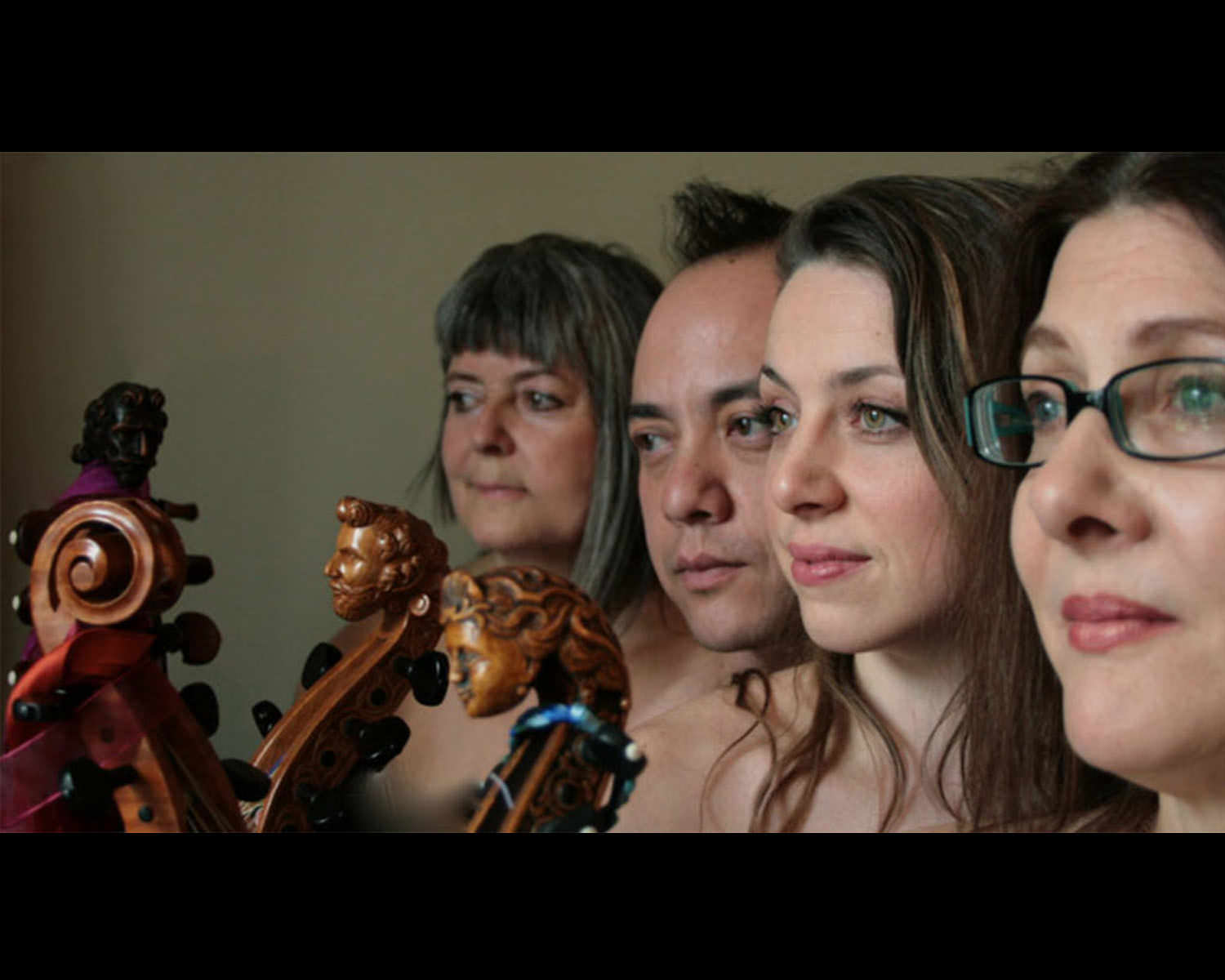 June 27 - July 4
Summer Tour – 4 Seasons, 4 Viols
Antonio Vivaldi's Quattro Stagioni revisited. Original arrangements for 4 violas da gamba of Vivaldi's 4 Seasons by Susie Napper & Margaret Little, mixed in with a tasty recipe of seasonal songs.
The Four Seasons (Le Quattro Stagioni) is Antonio Vivaldi's (1678-1741) most popular set of concertos. What a bizarre phenomenon that these pieces are heard nowadays as elevator and supermarket Muzak, as street music on anything from accordion to Jews harp as well as annoying, "on hold" telephone entertainment!
However the popularity of The Four Seasons is nothing new. They were amongst the Top Ten tunes during the 18th century! Spring was performed regularly from 1725 to 1790 at the Concerts Spirituels, the Parisian concert series. There are also many period arrangements of the concertos for diverse instruments from one recorder to full orchestra with choir. Stealing music was common practice in the baroque period. Like clay, it was a medium to be modelled to fit different instruments and new performance situations. Les Voix humaines has, therefore, followed a well-trodden, baroque tradition by arranging these pieces for the fun of it! And this June they bring these arrangements to Nova Scotians across the province on their 2018 summer tour!
Each of Vivaldi's seasons is filled with word painting: hear the birds singing, dogs barking and the hurdy-gurdy in Spring, the thunder storms and mosquitos in Summer, the drunken farmers and hunting horns in Autumn and the wind, ice and rain in Winter. Vivaldi includes short poetic descriptions of the seasons throughout the music which may be heard during this performance. Les Voix humaines will also bring other well-known jazz standards, pop tunes and traditional songs (by Henry Purcell, George Gershwin or Joseph Kosma) that are slipped into the concertos for added pleasure. Luckily we'll never know if Vivaldi is turning in his grave!
Les Voix humaines, a viola da gamba duo, has thrilled audiences worldwide with dashing performances of early and contemporary music for over three decades. Susie Napper and Margaret Little's musical complicity has been compared to the skill of two trapeze artists or the telepathic communion of a pair of jazz saxophonists! A decade ago the duo was joined by Mélisande Corriveau and Felix Deak to form Les Voix humaines Consort of Viols to take a refreshing look at the huge repertoire for multiple viols. The consort has toured in Canada, Mexico, Europe, Scandinavia and the Baltic States and recorded Bach's Art of Fugue, Purcell's Fantasias, Dowland's Lachrimae. Now they bring Nova Scotia audiences a fresh look at Vivaldi's Quattro Stagioni for equal viols - 4 Seasons, 4 viols: wherever in Nova Scotia is called home, let Les Voix humaines bring the Four Seasons to you!
Wednesday June 27th, 7:30 at St. David's Presbyterian Church
1544 Grafton St, Halifax. For information: 902-299-6425
Tickets: $20. Purchase online
Thursday June 28th, 7:30 PM at Sharon United
15 Church Street, Tatamagouche. For information: 902-657-2699
Tickets: $20. Purchase online
Friday June 29th, 7:30 PM at Manning Chapel
45 Acadia St, Wolfville. For information: 902-582-3933
Tickets: $20. Purchase online
Saturday June 30th, 6:00 PM at Cecilia's Retreat
1199 Oakland Rd, Mahone Bay. For information: 902-624-0506
Tickets: Due to limited seating, admission is by advance reservation only. To reserve, please email or phone 902 624 0506.
Monday July 2nd, 7:00 PM at Central Chebogue United Baptist Church
796 Chebogue Road, Arcadia. For information: 902-742-8765
Tickets: $20. Purchase online
Tuesday July 3rd, 8:00 PM at Evergreen Theatre
1941 Stronach Mtn Rd, East Margaretsville. For information: 902-825-6834
Tickets: $30 (student: $15). Purchase online
Wednesday July 4th, 12:00 PM at St. John's Church
Music & Meditation
64 Townsend St, Lunenburg. For information: 902-634-4994
Tickets: Admission by donation
Featuring Les Voix Humaines : Susie Napper, Margaret Little, Mélisande Corriveau, Felix Deak