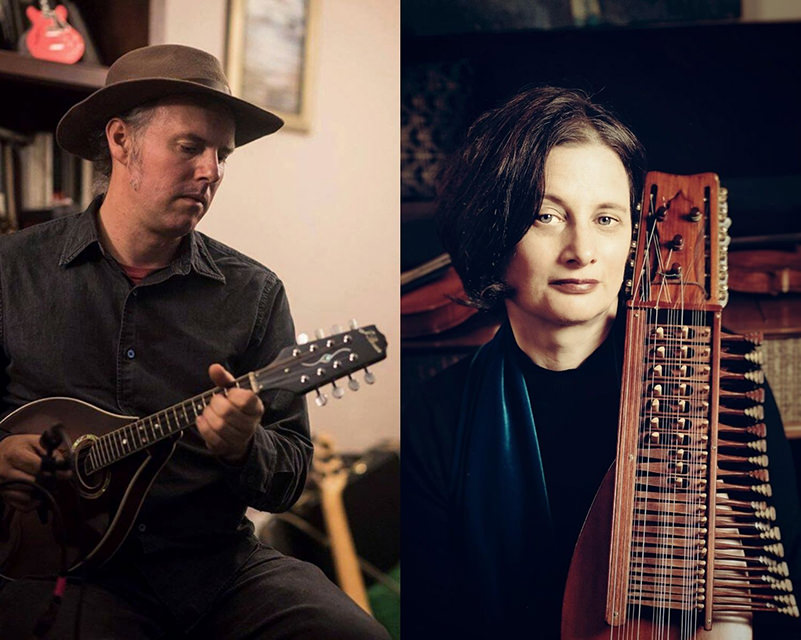 Saturday August 1 2020, 7:30 PM
Kirsty Money & Jude Pelley
St. John's Anglican Church Port Williams
Saturday 1 August – 7:30 PM

About
Celebrating its 35th anniversary summer season, Musique Royale presents its first virtual edition concert (available on YouTube) featuring Kirsty Money (nyckelharpa) and Jude Pelley (bouzouki), set in the cozy St. John's Anglican Church in Port Williams. Hear original tunes by the two musicians, a bit of unaccompanied Bach on the nyckelharpa, a beautiful cover of the Beatles song, Norwegian Wood, and various other Swedish and Irish tunes!
About the Artists
Kirsty Money
Originally from BC, Kirsty Money studied violin with Sydney Humphreys at the Victoria Conservatory of Music, and has further degrees from McGill and Western Universities, as well as her LRSM (UK). Currently she is a member of the first violin section of Symphony Nova Scotia. However, Kirsty plays more than just modern violin.
While studying in Montréal, she was introduced to the Baroque violin, and this has led to collaborations with Early Music musicians like David Greenberg (Tempest Baroque Ensemble), Suzie Leblanc (Le Nouvel Opera), Jeanne Lamon (Tafelmusik), Alex Weimann (Pacific Baroque Orchestra), Kati Debretzeni (English Baroque Soloists) and David McGuinness (Concerto Caledonia, Scotland).
Kirsty's interest in Early Music and living with the Folk traditions in Nova Scotia, has also inspired her to take up playing the Swedish Nyckelharpa, an instrument dating from Medieval Northern Europe. Since 2015 she has been studying the instrument and it's Folk repertoire from Sweden intensely. Through grants from the Canada Council and Arts Nova Scotia she has been to Nyckelharpa workshops and festivals in Sweden, the UK and Germany. Principal mentors include Olov Johansson, Josefina Paulson, Magnus Holmström, David Eriksson, and Vicki Swan. Kirsty's intention is to bring the amazing depth of sound and versatility of the nyckelhapra to audiences in Nova Scotia, and indeed to the rest of Canada.
Jude Pelley
Born in Carbonear, Newfoundland, in 1975, Jude Pelley has been a musician since taking up the guitar at the tender age of 12. Taught by his father, who is a veteran of Nfld. folk rock bands Red Island, Figgy Duff, and Rawlins Cross, Jude has been working professionally as a musician since the mid-1990s. His musical projects and groups have included two-time ECMA winning bluegrass band Exit 13 (Bridgewater, NS), medieval and early music groups Ensemble a Part (Wolfville NS), and Banquo (Victoria, BC), as well as working with Juno winner Amelia Curran (St. John's, NL) as both multi-instrumentalist and producer/recording engineer. After spending a decade working with flautist Charlie Wilson, as part of the instrumental duo Pennybrook (LaHave, NS), Jude is now residing in the Annapolis Valley area of Nova Scotia for the summer months, and Vancouver Island, BC, for the winter months. His current projects include working with BC singer/songwriter Katrina Kadoski (Sooke, BC) on her much-anticipated second album, and working on a double album of his own original material, to be released in 2021.