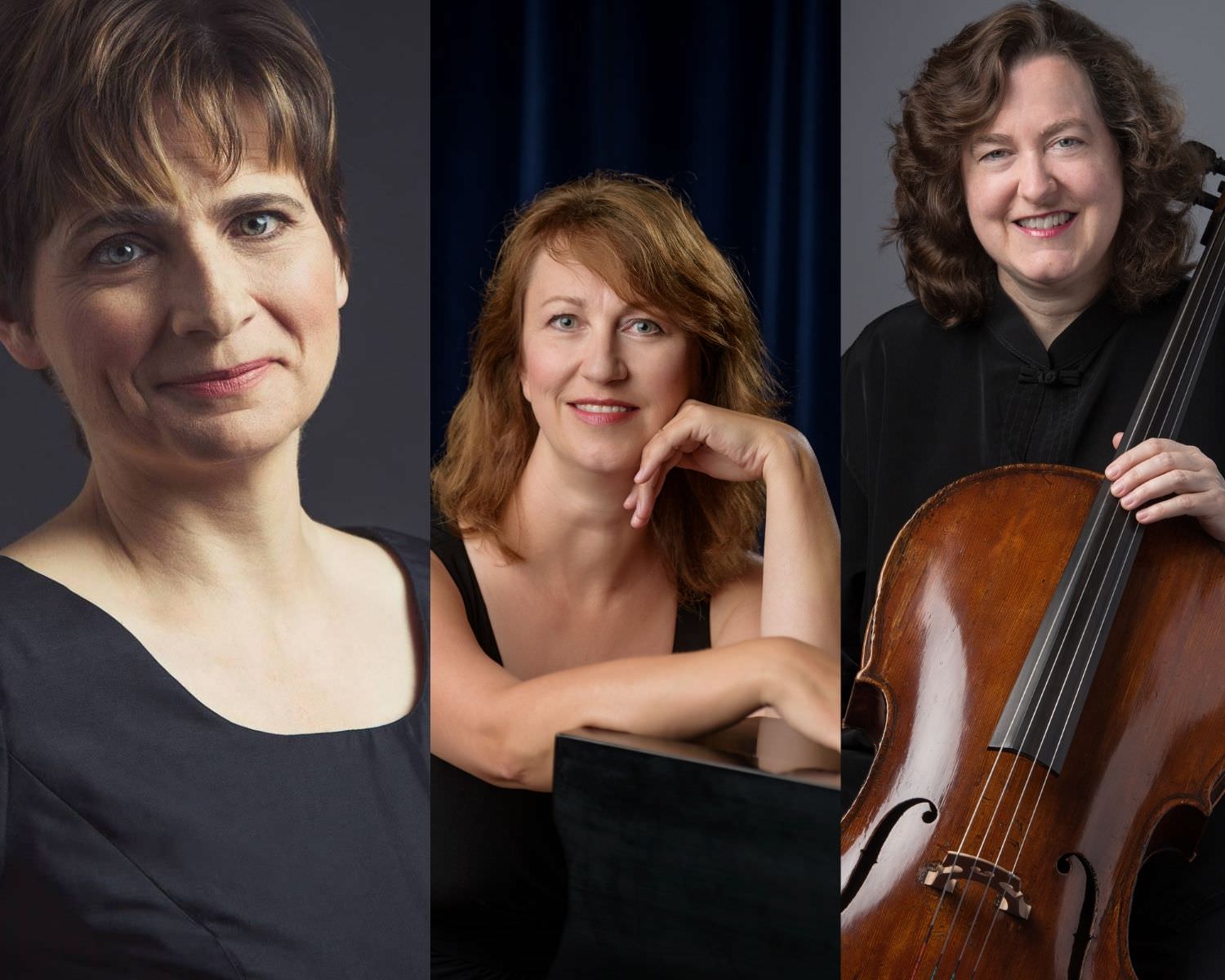 Saturday September 26 2020, 7:30 PM
Bella Vita 1720
St. John Centre for the Arts, Arichat
Saturday 26 September – 7:30 PM

Featuring
Sibylle Marquardt (flute), Hilary Brown (cello/baroque guitar), Lynette Wahlstrom (harpsichord)
About
The Baroque Argento Collective of Halifax (B.A.C.H.) performs "Bella Vita 1720", taking listeners through sonatas by Handel, P.B. Bellinzani, and P. Locatelli. Hear Sibylle Marquardt (flute), Hilary Brown (cello) and Lynette Wahlstrom (harpsichord) perform at St. John Centre of the Arts in Arichat, Cape Breton.
About the Artists
Sibylle Marquardt, flute
A native of Germany, Sibylle Marquardt moved to Canada in 1997. In August 2018 she moved to Halifax where she is now teaching at the Maritime Conservatory. An active chamber and orchestral player in Canada and Europe, she is also recognized for her teaching. In 1998 she became a Certified Teacher on the Faculty of the Royal Conservatory of Music, got her certifications as Suzuki teacher, has joined the College of Examiners and has become a sought after adjudicator at music festivals. As well she was a visiting artist at the Etobicoke School for the Arts, one of the designated art schools of the Toronto District School Board.
Her orchestral career began at the early age of 23, when she was regularly hired as second flute/ piccolo with the Radio Symphony Orchestra Munich under Sir Colin Davis, touring to Italy and Japan. She went on to join the orchestral program of the Deutsche Oper Berlin and held a solo flute/solo piccolo position at the Freiburg Philharmonic Orchestra under Sir Donald Runnicles. She was a substitute player with numerous orchestras in Germany, Switzerland and Canada.
Sibylle is a member of Trio D'Argento with Paul Pulford, cello and Todd Yaniw, piano, which is performing all over Canada and has recorded the CD "Piano Centric" with members of the Canadian Brass. With Duo Resonance (guitarist Wilma van Berkel) she recorded the CD "From The New Village", featuring 20th century music.
In 1994 Sibylle started the Baroque flute and in 2020 founded Baroque Argento Collective Halifax (BACH) with Hilary Brown and Lynette Wahlstrom. She has performed with the Camerata Basel, Nota Bene Baroque Players/Kitchener and Toronto Masque Theatre.
Sibylle's flute education is based on the French School and Marcel Moyse. Her main teachers include Hermann Klemeyer and Jean-Claude Gérard and she had lessons with Trevor Wye, Geoffrey Gilbert, Wolfgang Schulz, Philippe Boucly, Eric Kirchhoff and Aurèle Nicolet.
Her students are consistent award winners at the provincial level of Kiwanis and other festivals and many of her students were accepted into various music programs such as the University of Toronto, McGill University, University of Ottawa as well as the University of Western Ontario.
Hilary Brown, cello
Hilary Brown is currently a cellist with Symphony Nova Scotia, the Blue Engine String Quartet, and two early music ensembles: Tempest Baroque Ensemble and Réjouissance. She is also on the faculty of the Maritime Conservatory of Performing Arts and a cello coach for the Nova Scotia Youth Orchestra. Hilary has performed as a soloist with Symphony Nova Scotia and has been heard frequently as a chamber musician on CBC Radio. She has performed on many Maritime concert series such as Musique Royale, the St. Cecilia Concert Series, Musique Saint- Bernard, the Music Room Chamber Series, the Indian River Festival on Prince Edward Island, the Scotia Festival of Music, the Halifax Jazz Festival, the Mahone Bay Summer Concert Series, the Boxwood Festival, the St. George's Consort series, numerous Paul Halley and Nick Halley productions, the Halifax Summer Opera Festival, as well as Music Toronto.
Lynette Wahlstrom, piano
Lynette Wahlstrom is well-known in the Halifax area as Music Director at First Baptist Church Halifax, Accompanist for the Halifax Camerata Singers & Symphony Nova Scotia Chorus, and Collaborative Pianist at Dalhousie University's Fountain School of Performing Arts. She appears regularly in performances with Opera Nova Scotia, Halifax Summer Opera Festival, Symphony Nova Scotia (celesta, piano), Early Music Society of Nova Scotia (harpsichord) and the Nova Scotia Choral Federation. In demand as repetiteur, coach and accompanist, she has worked with conductors Bernhard Gueller, Jeff Joudrey, Hilary Apfelstadt, John Trotter, Jakub Martinec, Elise Bradley, Caron Daley, Julian Wachner, and Robert Ingari, and played for the studio classes of Christina Haldane, Michael Donovan, Sanford Sylvan, Lucy Hayes-Davis, Greg Servant and Marcia Swanston. Lynette's degrees include Bachelor of Music (Brandon University), Master of Piano Performance (Université de Montréal) and Master of Accompaniment (McGill University). She is an active member of Opera Nova Scotia, Early Music Society of Nova Scotia, and the Halifax chapter of the Royal Canadian College of Organists.
For more please visit: https://www.silverflute.ca/